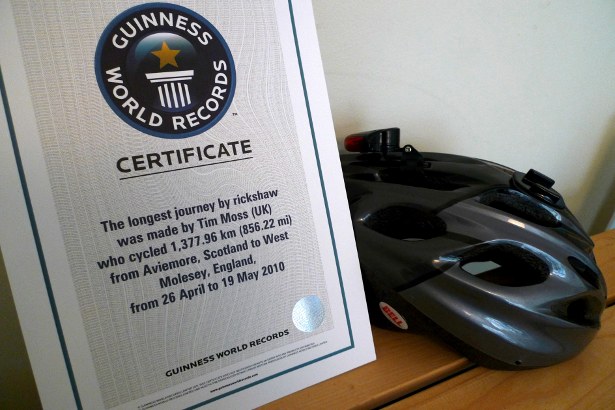 It's been a long time coming but I have now received official confirmation from Guinness World Records that I hold the record for the longest journey by rickshaw.
In 2010 I cycled just over a thousand miles on a circuitous route from Aviemore back to London. Using a rickshaw donated by Bug Bugs, I was raising money for the Special Olympics Great Britain.
The official record is only for 856 miles. That's because I went via my parents' house on the ride and, apparently, if you go home at any point during a record attempt, it automatically comes to an end. I hadn't read that before I departed so I still kept evidence right the way up to the 1,000 mile mark.
Anyway, this is mostly to say thank you for making me go for the record. I doubt I would have bothered if you hadn't voted in favour of the idea before I left. Thank you – I will now be able to tell my grandchildren that I broke a world record!
Stats and figures from the ride
Average speed: 7.71 mph
Top speed: 28.8 mph (may have been faster but reading my odometer at such speeds was not ideal)
Number of times I started rolling backwards on a hill start: 1
Number of hills too steep to cycle: 0
Punctures: 5 (of which self-inflicted during repairs: 3)
Distance cycled without using front brakes: 138 miles (Aviemore to Edinburgh)
Number of angry car honks: 10
Number of supportive car honks: 77
You can see the rest of stats here and view a map of my route here.
Photos
Special Thanks
Bug Bugs Rickshaws – For donating the rickshaw, giving me a crash course and helping me fix it up
The Bike Station – For saving my ailing pedicab after it limped into Edinburgh
Aviemore Bikes – For fixing the brakes and helping get me started
Cheshire Academy – For being wonderful hosts during my visit
Special Olympics Great Britain – For supporting me throughout
And all of the other people who let me camp on their land, made donations, cheered me as I past, and honked their horns and waved.
Read more at: 1000 Miles on a Rickshaw