Following a Bulgarian narrow gauge railway. Walking from one white horse to another. A triathlon across Wales. A swim the length of Cumbria. A cycle through the Great Sambisa Forest. A cycle to every settlement on the Isle of Wight.
These brilliant ideas and more from the 13 wonderful winners of the 2023 Next Challenge Grant.
As ever, the money for these grants comes from me and many generous donors. Click here to read more about the grant and make a donation.
Otherwise, scroll down for some vicarious adventure!
---
Walking the Suffolk Coast – Rachel Kearton – £100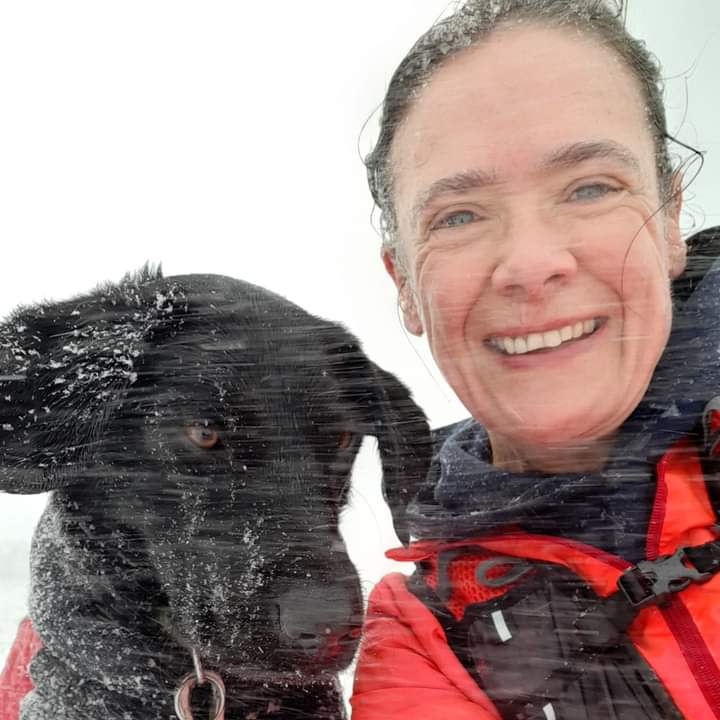 My name is Rachel Kearton and I'm a fairly typical middle-aged wife and mum to two teenagers. We moved to Suffolk to be near my mother who has dementia and lives locally in a care home, and my 93-year-old father. I work full time for the police, so life is pretty full on.
I've been thinking of a trip like this long-distance walk for some time as an opportunity for respite from my busy daily life. The extra bank holiday in May this year gave me a free day to make it possible, and the grant was the icing on the cake. I wanted to show myself and others that you don't have to schlep to the mountains or search for a major adrenaline rush to have an adventure, sometimes it can be right on your doorstep. I also want to show other girls and midlife women that, far from being a dangerous world out there, time in nature can be healing, life-affirming, and build resilience.
The grant wasn't about the money for me. It was about someone giving me the confidence that I wasn't crazy, but that my idea was worth supporting. I'm now thinking how I can use the money to get others involved, to grow their awareness of the benefits of making adventures.
---
Cycling across France with an 8-month old – Sam Jones – £100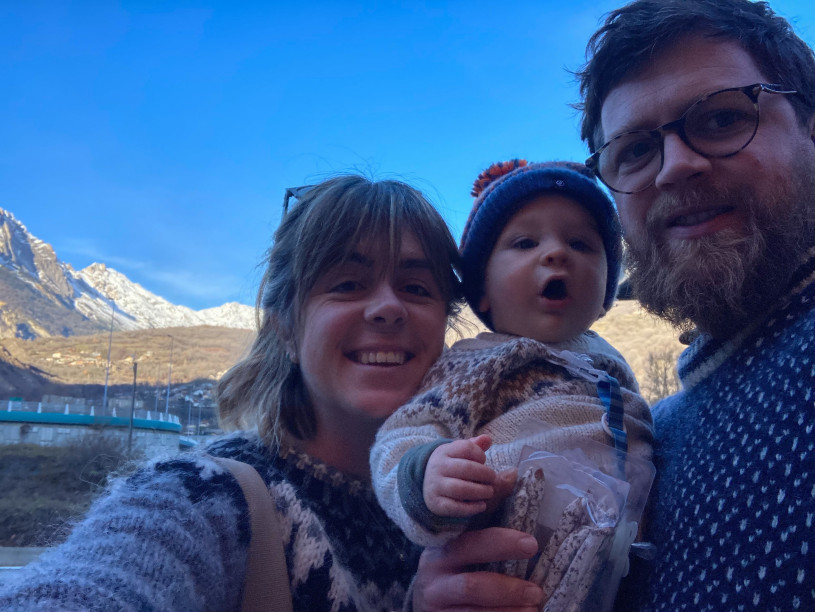 We're an Anglo-Italian trio of Daria (true born Italian from Florence), Cosimo (foot in both worlds) and Sam (wannabe Italian Brit), who currently live in Surrey, UK. Sam works for charity Cycling UK, Daria for examination board AQA, while Cosimo mostly likes to stack things and be pulled around in his bike trailer. Which is a good thing, given we're planning on riding EuroVelo 6 – from the Atlantic to the Black Sea – as a trio.
Our current plan is to do this in stages over several years with plans a foot to ride the Loire section this September – but with the rising cost in living and nursery fees, our plans were beginning to look a bit jeopardy. This £100 really means the world to us and means those plans can become a reality, as well as giving us all the more incentive to embark on our trip together as a family, and hopefully show to others adventures don't have to stop with children!
Really can't thank you enough Tim and everyone who supports the Next Challenge – now the planning and training begins!
---
Bikepacking and swimming along the West Kernow Way – Georgie Carter – £100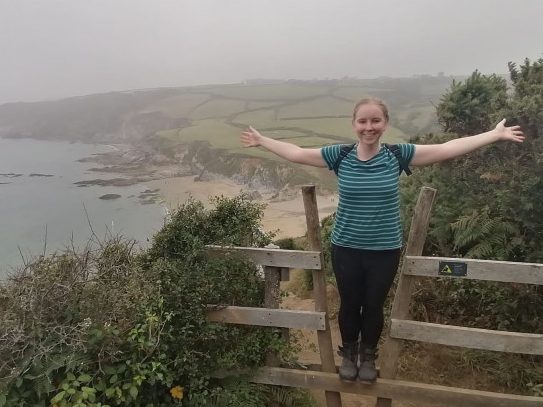 Georgie: 32, working as an editor, living in Cornwall since 2021.
I'm going to cycle the West Kernow Way in Cornwall over ten days, swimming at ten beaches/harbours along the way!
I'm excited and surprised – I've never won a grant before and am over the moon that it means I can go on this adventure and explore more of my county. I'm also a bit scared. I haven't swum at any of the locations and have rarely cycled for more than ten minutes, so to embark on a very hilly, 230km route feels ambitious!
---
Walking between the Uffington and Westbury White Horses – Christine Boyle – £50 (full amount)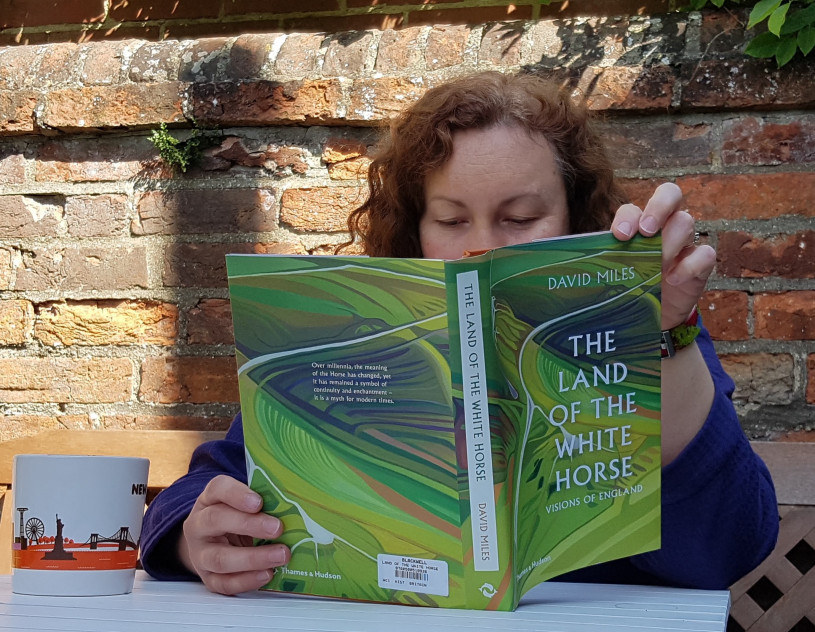 Christine Boyle, originally from Brooklyn, NY, USA but living in the UK since 2007.
My challenge is a 3-day, 40-mile walk from the beautiful Iron Age Uffington White Horse to the 17th
Century Westbury White Horse in summer 2023, camping along the way.
I was so thrilled (and shocked!) to receive Tim's email saying I'd been awarded a Next Challenge
Grant. I know it's just a tiny adventure, but it's a big deal to me! I've been adventurous in some areas
of my life, like moving on my own to live and work in different countries, but never really in nature.
Growing up in a city, I was always bewildered by and kind of terrified of the natural world! But since I
was a child I've wanted to do some type of walking pilgrimage, and I'm hoping this adventure will
also help me build confidence to take a longer trip someday.
Winning this grant has given me the motivation to finally DO it and makes me feel so supported in
taking on the challenge. Thank you very much! I plan to post some photos from the trip this summer
on Instagram @charming_rover.
---
Walking the River Tawe from source to sea – Finn McCartney-Hill – £60 (full amount)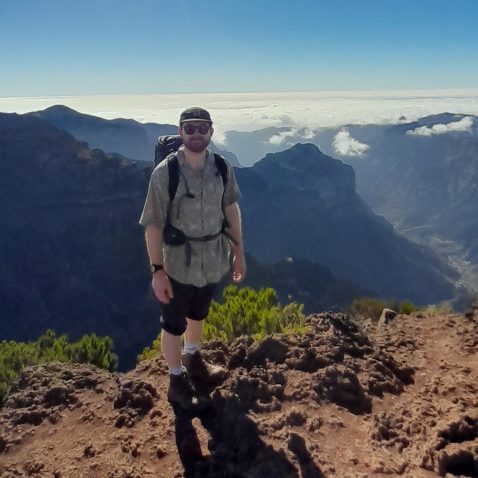 My name is Finn McCartney-Hill, age 26, Occupation: Sustainability and Energy Consultant, I am from Swansea but I live in North London,
My proposed adventure is to walk the length of the River Tawe from its source in the Brecon Beacons to Swansea where it meets the sea. Abertawe, the welsh name for Swansea, is literally translated as " the mouth of the River Tawe". I will wild camp at Llyn y Fan Fawr (the source) then will spend two slow days fully immersing myself in the surroundings as I head for the sea. I hope to rediscover my welsh heritage and unearth a story as I walk the historical river to which my home owes its name. I will be documenting my planning and journey at https://adventureconscious.com/.
Winning the grant was an amazing surprise! It has been a huge confidence boost and has given me the motivation to continue to seek out adventure and document my journeys. Thanks so much to Tim for continuing to inspire others and help facilitate their adventures!
This will go towards partially funding a return train ticket from Swansea to London and buying books to learn about the history before I undertake my expedition.
---
Walking and drawing across Denmark – Catherine Jones – £200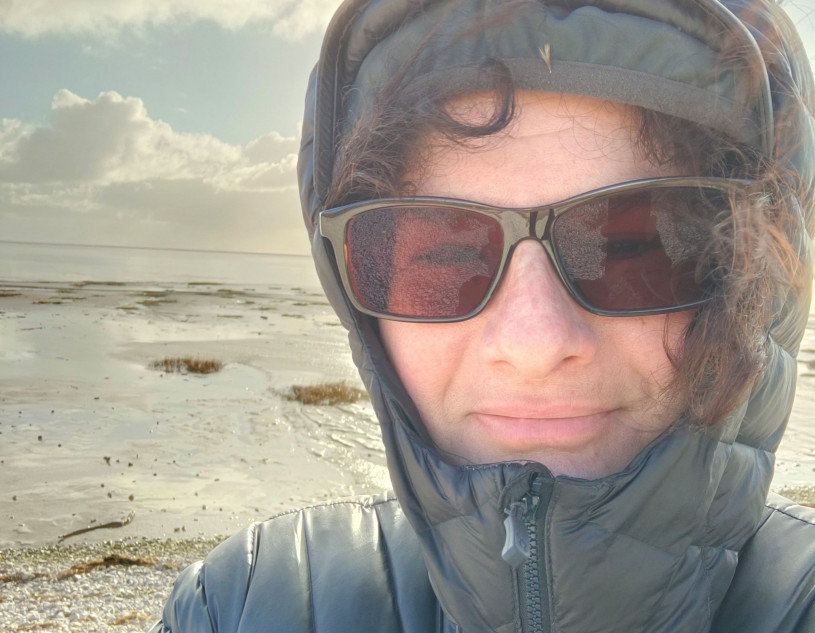 Catherine Jones age 56 (in my heart I'm 20).
I'm going to walk across Denmark following the coast to coast walk this summer, solo backpacking, and keeping a sketch book as I go.
I have a number of serious health conditions, including osteoarthritis, diabetes and severe asthma (currently attempting to recover from COVID which I'd managed to avoid till now) but my happy place is outside in the fresh air with my own company so spend a lot of time walking, wild camping, wild swimming and exploring to help keep me well. I'm a single mum of two boys (19 and 17) and want to be a great role model to them, to show them and everyone else that having disabilities doesn't stop you having adventures.
I've done backpacking with friends and lots of solo car based camping, exploring round the outer fringes of Arctic Finland and Norway, but wanted to set myself the challenge of being totally self supporting on legs.
I chose the route as it sounds so interesting, and for a first solo backpack not mountainous if my arthritis is playing up…- I'm fascinated by history and prehistory, as well as the natural world and there will be lots of places to explore. Just obtaining the maps( I love studying maps…) was my first challenge as since Brexit I couldn't get them sent to the UK.Luckily a Danish friend was visiting her family recently and managed to purchase them for me.
I am an artist amongst other things ( I was a lawyer for 12 years and teach music as well as art) and will be keeping a sketch book as I cross Denmark, and plan to create a body of work on my return that I can exhibit in 2024!
I was over the moon to hear I'd been awarded a grant, it really helps me believe in myself, when so often I get told I shouldn't or can't do things. Now I can really start planning my next adventure!
---
Swimming the Cumbrian Coast – Wayne Singleton – £100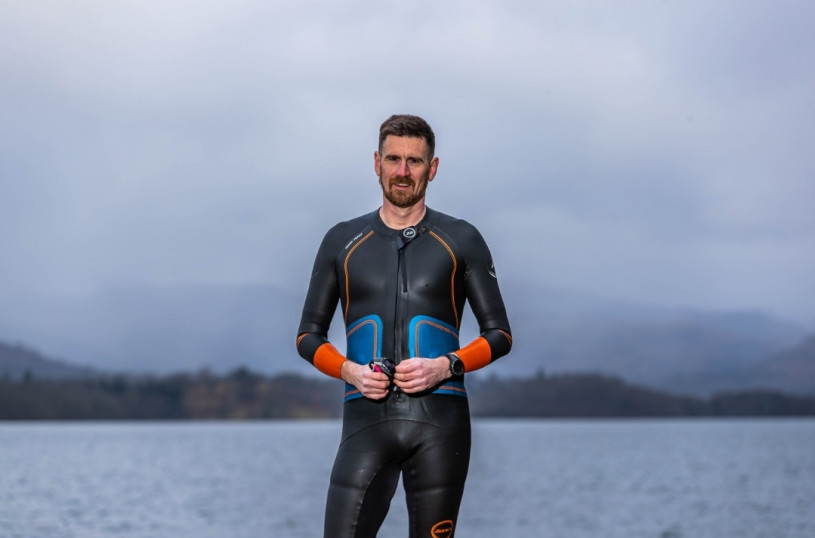 Wayne Singleton. HR Manager, podcaster, event MC. 47. From Kendal, Cumbria.
I'm swimming the Cumbrian coastline in September 2023 to raise money for the Brathay Trust to support young people in Cumbrian communities.
I'm delighted to have been given some money by Tim at The Next Challenge. The money will go some way to paying for all of the logistics and transport that go into a multi-day endurance adventure! I've a team of people supporting me and I don't want them to have to pay in more than time to support me so this is a huge help
You can read more about my challenge at www.solwaytosilverdale.com, I'd love your support too
---
Walking cave to cave in Franconian Switzerland – Jérémie Gnaedig – £150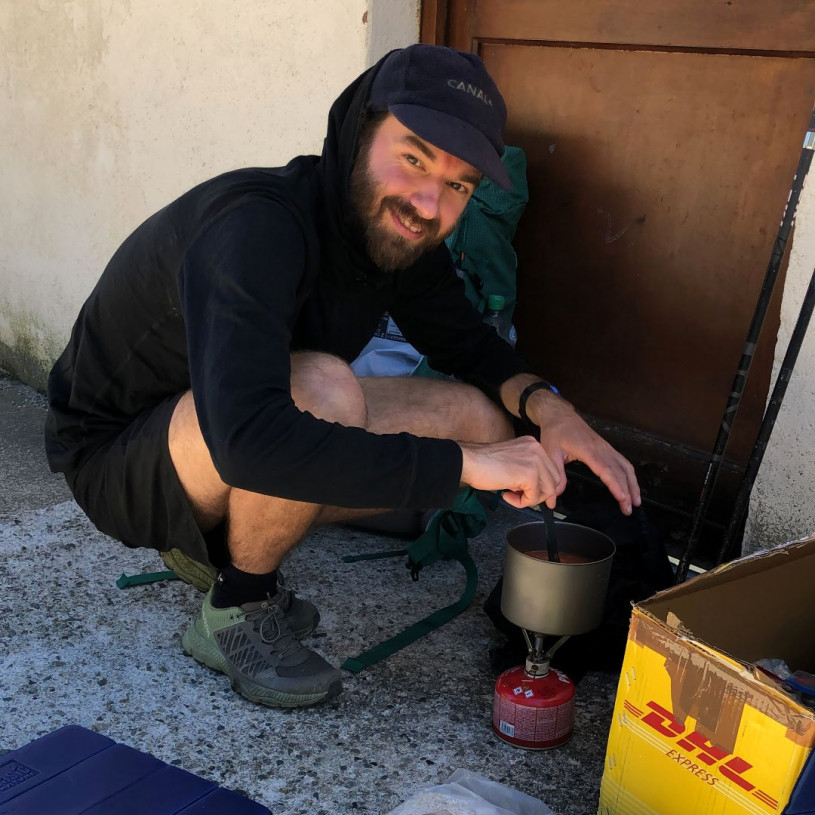 Jérémie Gnaedig, 36, social worker from France. Now living in Bamberg, Germany.
The region where I live has a loooot of small limestone caves from the jurassic period. I'll circumwalk it in 8 days, bivouacking from cave to cave, totaling about 320km. For me, this project is much more about the physical challenge and a minimalistic, lightweight approach, than having a bushcraft/survival or speleologic adventure. These natural shelters are here (since millions of years by the way), so why carry a tent with me?
It's really nice that a quite basic idea paying tribute to a region's distinctive feature is worth being supported. Thanks a lot, Tim, for making this adventure possible and good luck to the other winners! I can't wait to start – but first I have to get back in shape after a winter rich in calories ;)
---
Triathlon across Wales – Rachel Davies – £100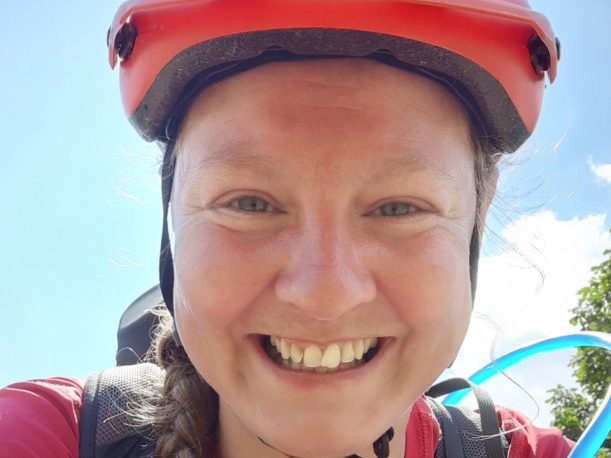 Rachel Davies, from North Wales.
This September I plan to travel across Wales, from South to North, triathlon style! I'll cycle approximately 150 miles, swim across a lake, and finish by running the rest of the way to my finish line. I cannot wait to get started!
Being active outdoors is really important to me, yet I never really discovered this until I was in my mid 20s. As part of my trip, I will be raising funds for two charities: the Outward Bound Trust- encouraging children to get involved in adventure at an early age; and Kitsquad- supporting people who are low income by supplying them with outdoor gear so they can get outside.
I'm really grateful to Next Challenge for giving me this opportunity, as it wouldn't be possible this year without the grant.
---
Cycling to every settlement on the Isle of Wight – Nicci Shepherd – £100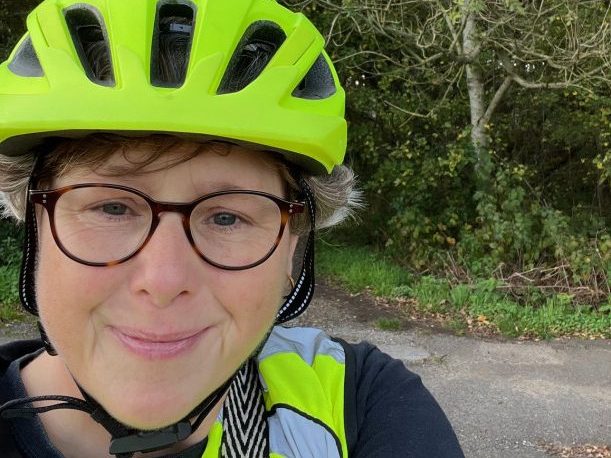 My name is Nicci Shepherd, I'm 53 years old and live on the edge of the South Downs National Park in Hampshire. I'm a communications, events and engagement manager for Hampshire Library Service, which is great because I love reading almost as much as I love exploring by bike.
I never met my paternal grandparents, but I know that they came from the south side of the Isle of Wight. This autumn I will use my vintage bike to slowly explore the island, in the hope of filing some of the gaps in our chequered family history.
I'm really delighted to receive the Next Challenge Grant from Tim, it's given me the validation I need to finish my vintage bike project, make it roadworthy and use it to experience the island as my grandparents would have probably done in the early 1900s
---
Cycling the Great Sambisa Forest – Ugwu Odinaka – £100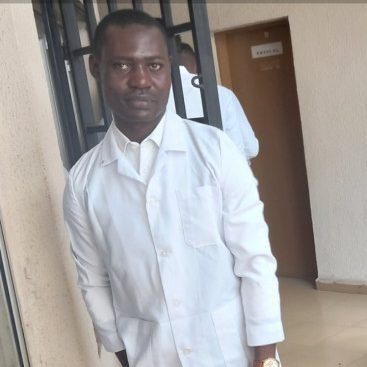 My name is Ugwu Odinakachukwu Emmanuel. A 300 Level medical student at ESUT College of Medicine, Parklane, Enugu State, Nigeria.
I am from Iheakpu Awka in Igbo Eze South Local Government Area of Nsukka Asadu Ideke Arumona cultural zone in Enugu State, Nigeria.
I have been nursing the ambition of cycling through the vast forest of Sambisa since ever it became popular as an expedition site 3 years ago but I haven't been able to accomplish this ambition due to financial constraints plus busy academic schedule. 
By this opportunity by Tim, I would like to use it to enjoy first hand experience  about this great and popular forest we have been hearing so many things about and to also enjoy my break after my professional exams, having been studying for a year and six months without a break.

I am super excited for this grant. It will go a long way in achieving my adventurous dream of cycling the Sambisa forest. May God bless Tim and all the members of the public that donated. I love you all. 
ABOUT MY TRIP:
WHAT : Cycling the great Sambisa Forest in the northern part of Nigeria.
WHEN : After my professional exams around October or November, 2023.
WHY : We want to experience the great lakes, rivers, mountains and geography of this great forest reclaimed by the Nigerian government from Boko Haram terrorists.
It will be the greatest holiday ever of my life and friends as we will be utililizing the financial aid from Tim to expedite the great Sambisa forest after our professional exams towards the end of the year. We have been nursing the ambition of cycling through this great forest for a couple of years now but thanks to Tim for making it possible finally. Please accept our unalloyed appreciation all the way from Nigeria. We love you Tim.
ON GETTING THE AWARD:
Today is a great day for us as we received the congratulations email from Tim. We are specially happy and excited for the privilege and we promise to make judicious use of the funds. Thanks alot sir and happy Sunday.
---
Walking across Europe – Greg Lonsdale – £300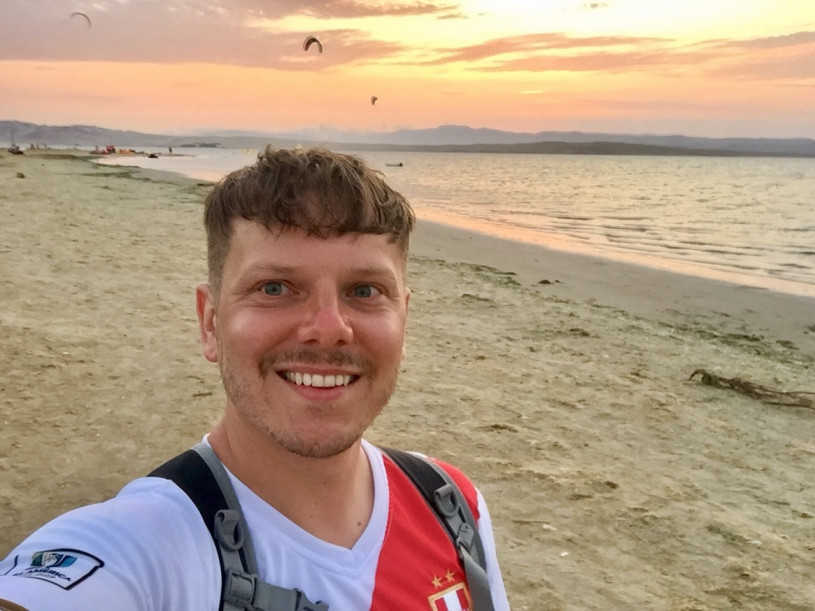 My name is Greg and I hail from Nottingham, UK, where I currently work on the Customer Retention Team at a Start-Up. I am elated to have been awarded this grant and am immensely grateful to the generous trustees who have made this possible.
In August/September, I will embark on a 3-month expedition across Europe, which is the first leg of my larger journey to walk around the world. This grant will provide the support I need to take my first steps on this epic adventure.
As I train for this 4-5 year endeavor, I am eager to explore and acclimate to the European landscape before traversing Patagonia in December/January. I cannot express enough gratitude for this opportunity and the kind individuals who have made it a reality. I am excited to pay it forward in the future.
---
Walking the Rhodope narrow-gauge railway – Radoslava Delieva – £125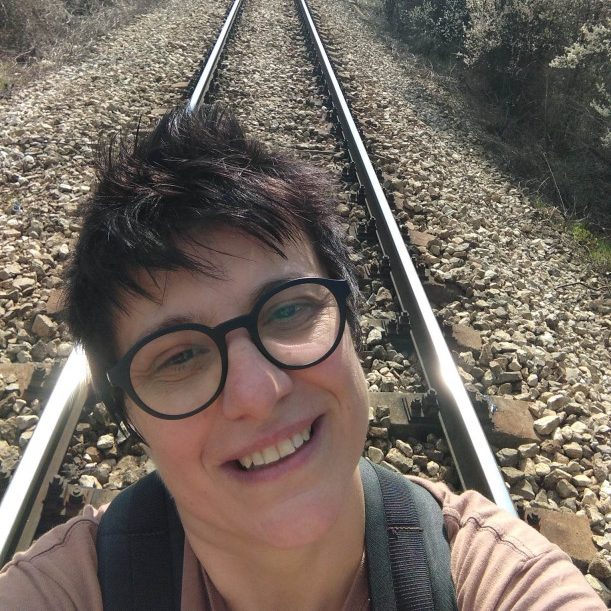 Radoslava, 51, storyteller living in Sofia (Bulgaria)
The news inspired me to do the joy dance!
In the summer of 2023, I will be walking the 125 km-length of the Rhodope narrow-gauge line, the last of its kind in Bulgaria. It connects three mountains and passes through the highest station in the Balkan Peninsula. Following the railway track, as it passes through various picturesque terrains, I will record sounds at day and wild camp at night. The collected soundscapes will be used by a travelling storytelling club and for an audio tour for visually impaired people. 
Thanks a ton to Tim and everyone who has supported The Next Challenge Grant!
---
Click here to read more about the grant, including past winners.