Athlyn Cathcart-Keays won a Next Challenge Grant in 2022 to traverse Mount Tantalus, near her home in Canada. Starting from her home at sea level, she crossed the range over two days, encountering everything from sunshine, snow and storms. This is her trip report.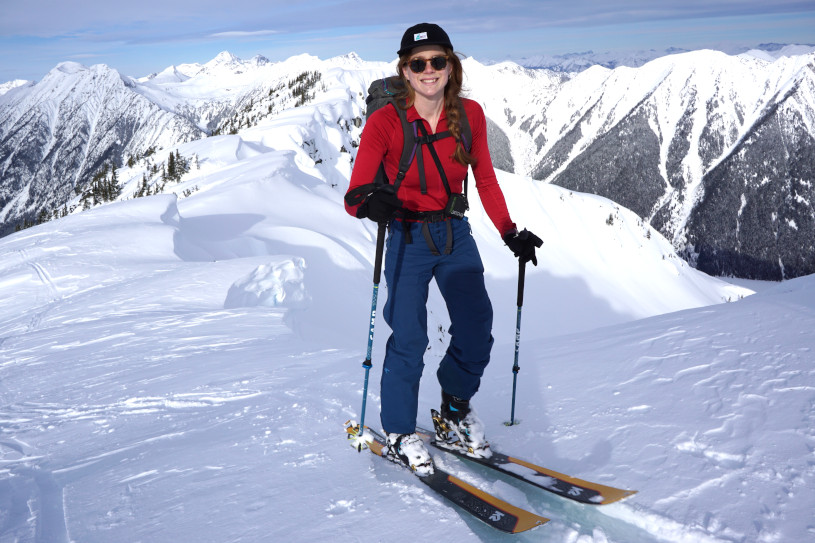 The Next Challenge Grant is a crowd-funded adventure grant which has supported over 70 adventures since it was founded in 2015. Applications for 2023 are now closed, but you can read about past winners and donate here.
---
A Tantalising Traverse
by Athlyn Cathcart-Keays
Just an hour north of Vancouver, the Tantalus range looms over the small town of Squamish on Canada's west coast. The Tantalus Traverse – a 40km negotiation of the range and Mount Tantalus (2,608m) beginning and ending at sea level – has been a goal of mine ever since moving here a year ago. Despite being just a stone's throw from town, the range is cut off by the mighty Squamish River and requires navigating some convoluted logistics. Reaching the trailhead, a technical undulating 16km hike brings you to the base of the Tantalus North Ridge where the real climb begins. Depending on route choice, the adventure includes around 3,600-4,000m of ascent, "4th" and "low 5th" class scrambling, glacier travel and (*spoiler alert*) navigating some gnarly late-season snow conditions.
All of this makes a traverse of the tantalus very tantalising… Moving to Squamish in 2021, I reconnected with Claire – a family friend who I hadn't seen in nearly 20 years, but whose adventures I'd been jealously following on social media. With a shared delight for mountain escapades, we discussed doing the traverse together as a 'fast-and-light' excursion in one single push, but after injury-based delays and busy mismatched schedules, we eventually set a date for slower attempt and recruited our partners, Nic and Tim, to join us on a final adventure together before Tim and I return to the UK in the Autumn.
Day one began with a long and potholed drive along a dusty forest service road to the trailhead deep into the Squamish Valley. Compared to our exit point, this was a doddle… The four of us set off up the side of the valley with heavy bags, grappling with unusual late summer humidity and 30C heat, swatting biting flies and bushwacking along lesser-trodden trails.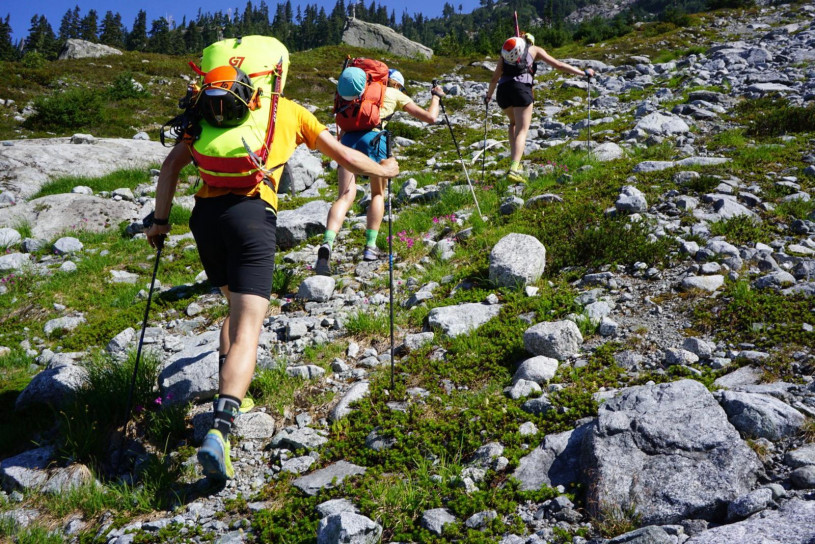 Beginning at sea level in the Squamish Valley, we climbed through the valley and up into the subalpine meadow where we picked handfuls of blueberries and caught a glimpse of the first major peaks we were aiming for. We soon ascended into the alpine environment, leaving the trail behind and setting off up impressive granite slabs on a 'choose your own adventure' type route. We quickly gained the col below the peak of Pelion Mountain before dropping down onto the other side for some exciting glissading towards a beautiful single track trail that wound along a ridge, providing stellar views of crevasse-riddled glaciers and imposing-looking ascents. We were really out there.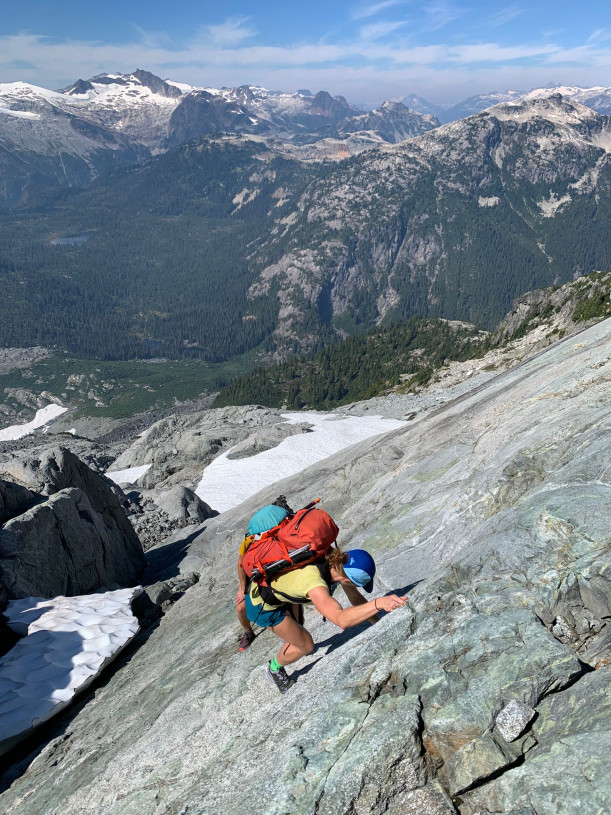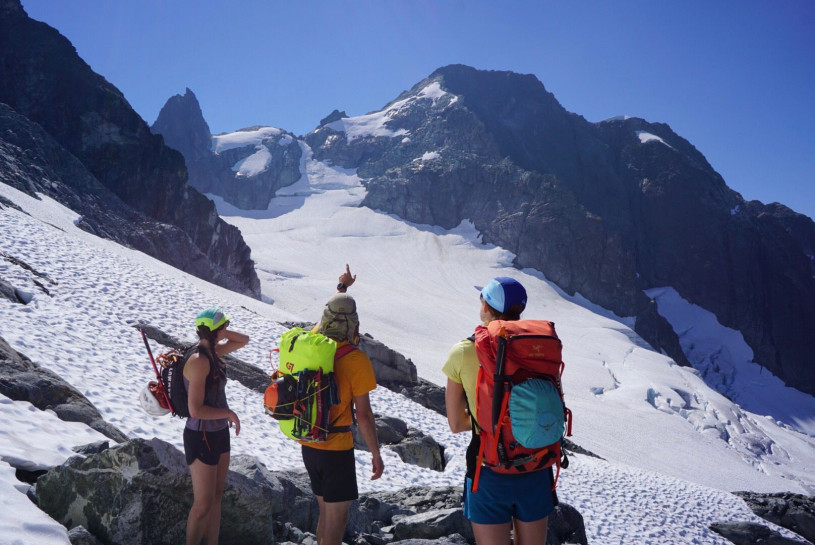 After about 16km and 2,500m of undulating and technical trail, we reached our camp spot for the night and pitched our tents on a flat outcrop of granite at the mouth of the valley, and enjoyed our dehydrated meals as the alpenglow cast a pink hue over the high mountain peaks.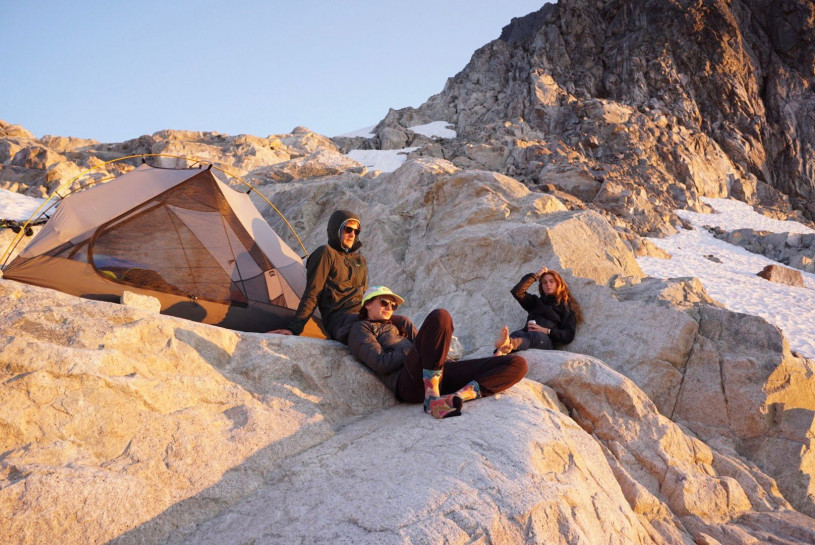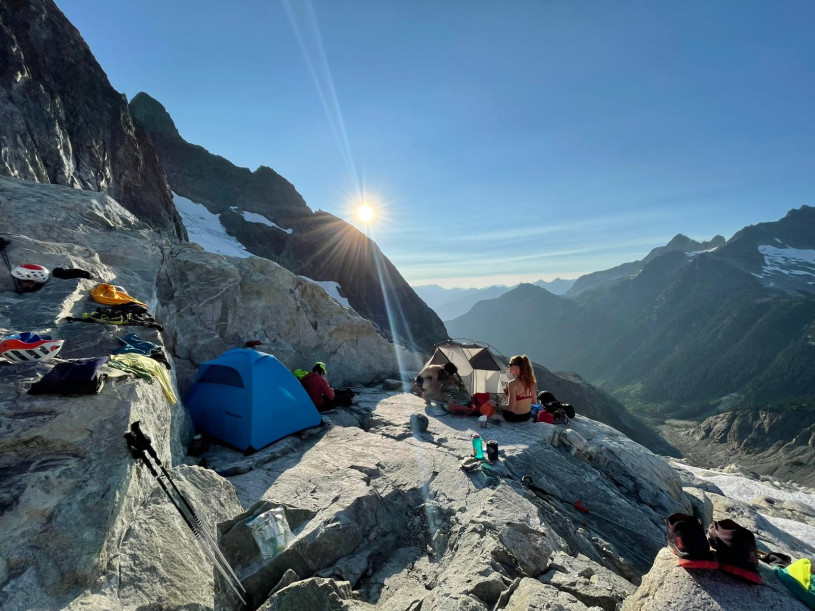 Rising the next morning to the most spectacular sunrise over the coast mountains, we set off after breakfast and coffee, donning our trail crampons to cross a glacier and reach the base of the buttress we'd be scrambling up to gain Tantalus North Ridge.. Just as breakfast settled, we encountered the first of many hurdles for the day when we came upon the gaping bergschrund – a broad gap between the glacier and the mountain – that we would need to cross in order to get onto the rock. Nic, with plenty of experience in the mountains and on this particular route, found us a safe way off the ice and we delicately picked our way up the buttress and along the knife-edge backbone leading up to Tantalus peak.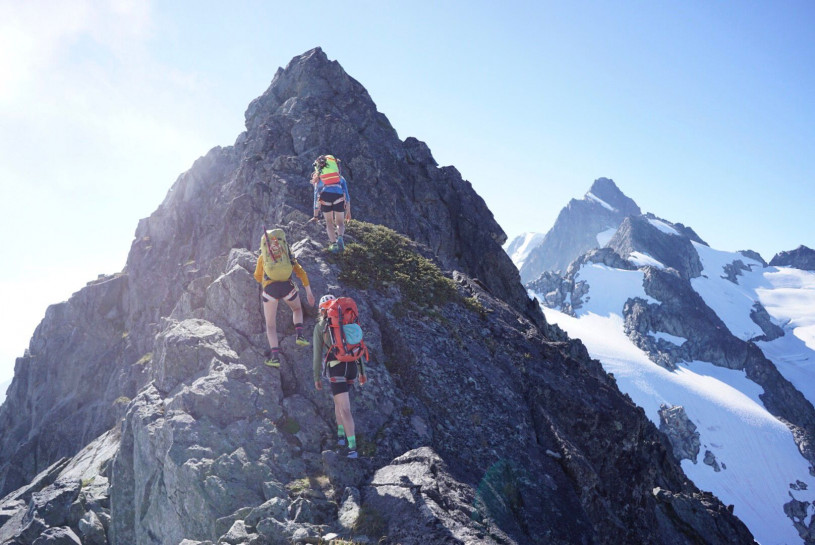 After many more bergschrund crossings, crevasse-dodging and technical route finding (I will spare my parents' nerves and wont go into details, but I was definitely happy to have an emergency flask of whisky at hand), I quickly realised that all of the mountaineering skills I've picked up from various courses were rather hypothetical – undeniably, the real ability to problem-solve in these scenarios comes from experience. Watching Nic think-through and set up systems to get us safely across some spicy hazards was an excellent learning experience, and I am forever grateful to have friends to learn from in the mountains.
We made it to the summit of Mount Tantalus after lunch just as the wind picked up and it looked like someone had turned on a smoke machine. We watched wispy clouds form directly overhead, and realised that the stormy weather that was forecast for the following evening would be coming in a lot earlier than anticipated. After a classic viewless summit selfie, we picked our way down five or so exciting rappelles and more yawning bergschrund crossings and made it back down onto the glacier where we walked roped together, dodging crevasses by headlamp as the darkness set in.
Our planned route passed a bookable hut outside of which we were planning to pitch our tents. The technical travel of the day set us back by a few hours, and we arrived around 9pm just as the storm ramped up in intensity. The hut guests took pity on us and invited us to cook our dinner inside. As the wind shook the sturdy walls of the building, it quickly became apparent that we might blow away and/or perish if we had to sleep out. Luckily, the vestibule of the hut is kept unlocked for scenarios like this, but even better for us, there were four available spots in the bunkrooms and we were welcomed in for the night – a palpable relief was felt by all.
The next morning, the rain lashed the windows and the wind howled a warning. We were fully "inside a ping pong ball" (the local term used to describe zero visibility in the mountains) and discussed the challenges of crossing a crevassed-riddled glacier in limited visibility. Using our Garmin InReach, we contacted friends in the valley for weather updates and hatched a plan to time our departure for a short weather window that afternoon. Long naps and lots of snacking had us feeling rested and fuelled for our escape, and long story short, after a knee-busting descent and pitch-dark river crossing at the other end, we made it back to civilisation safely.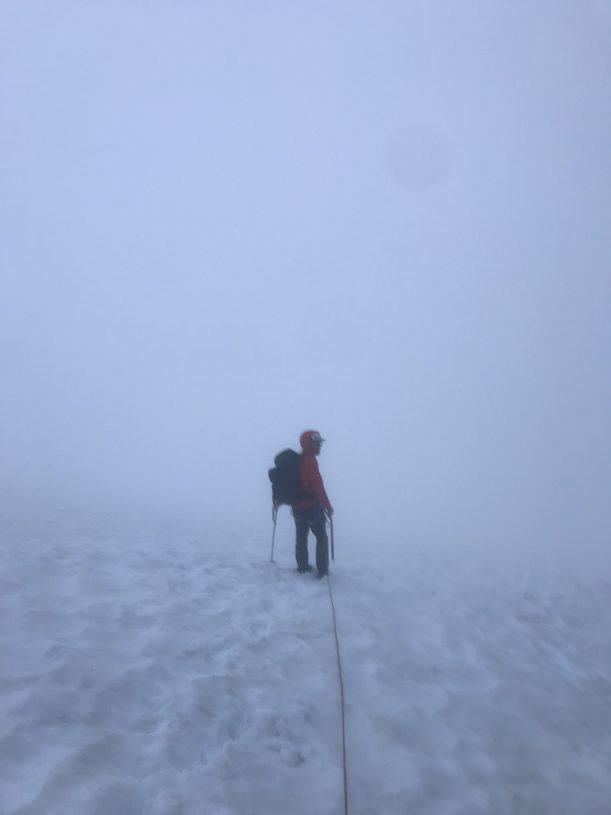 I'll be reflecting on this one for a while. As a mountain runner and climber, I naively approached it thinking it might be a long and slow run with a few rappelles. It's a popular route among Squamish folk (granted, most of whom are practically mountain goats), so my assumption was that it'd be straightforward. But ultimately, the Tantalus Traverse is not to be underestimated, and I'm very glad we had the gear, knowledge and fitness to tackle it as a group.
There were many lessons learnt over the three days, but the biggest take-home for me is: do things that push you out of your comfort zone, and do them with people you trust and have fun with. The only casualties were two hiking poles (one snapped, one disappeared into a glacial-abyss), but our morale remained intact and I was heartened by our ability to work as a team, keep level heads, and support one another. And most of all, our ability to continue smiling and laughing throughout – go team!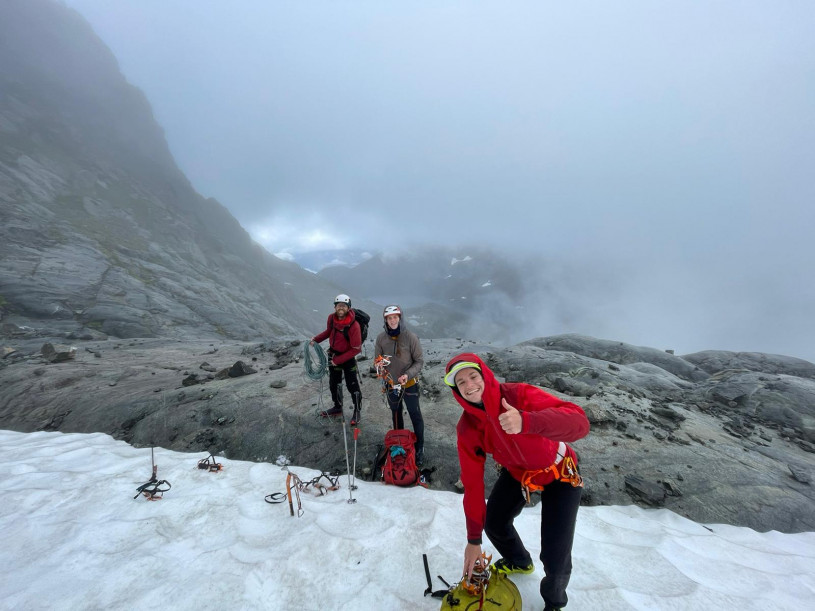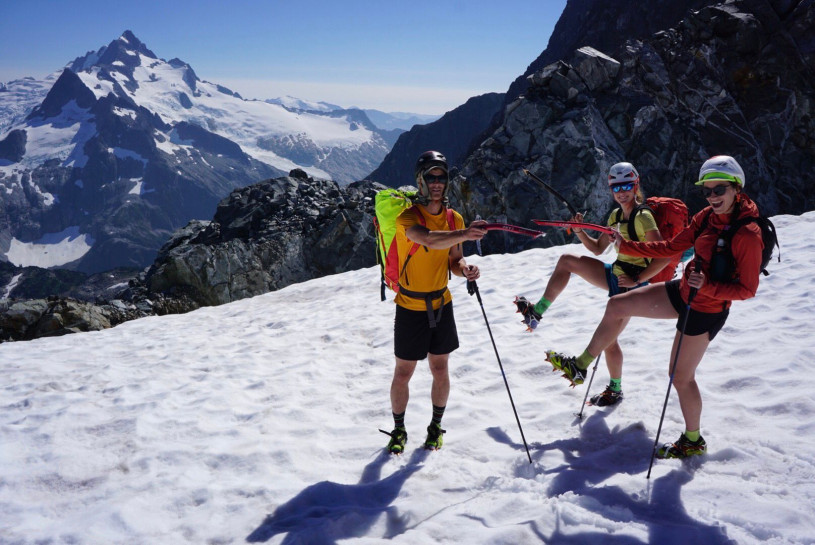 I am very grateful for support from the Next Challenge Grant to facilitate adventures like this!