A few nights ago, we slept in a disabled toilet. Don't get me wrong, it was a nice disabled toilet (although alas, no Dyson Airblade), but it was still a toilet. It was pouring down in Korea and it was the driest, warmest place we could find in the grounds of the museum we'd chosen to stop at for the night.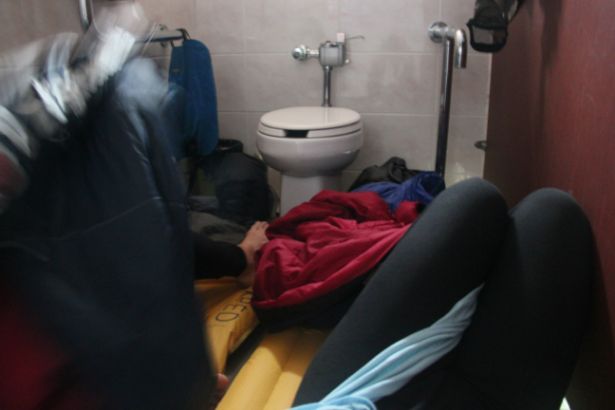 At one point in this most romantic of evenings, a question struck me: how has this become normal? The boundaries of what constitutes acceptable behaviour have shifted enormously from when we left home.
With so few possessions, we do virtually no housework. We wash clothes in rivers, hotel bathrooms and public loos, drying pants on our panniers if needs be. We wash dishes using a tiny amount of soap and whatever water we can spare. The biggest jobs are cleaning the bikes and washing the tent, but we have only done the latter once so far, and then only because I misjudged the aim of my nighttime pee.
I have become an expert at the strip wash, even in the most public of places. If we're lucky, we'll find a quiet river or lake to jump in. If we're not so lucky, we use our trusty Ortlieb folding bowl and stand in it, one washing while the other keeps lookout. Failing that, a wipe down with a wet flannel does wonders and can be performed almost anywhere, even in a crowd of people. Give me 300ml of water and a flannel, and I'll get myself (almost) clean enough for company.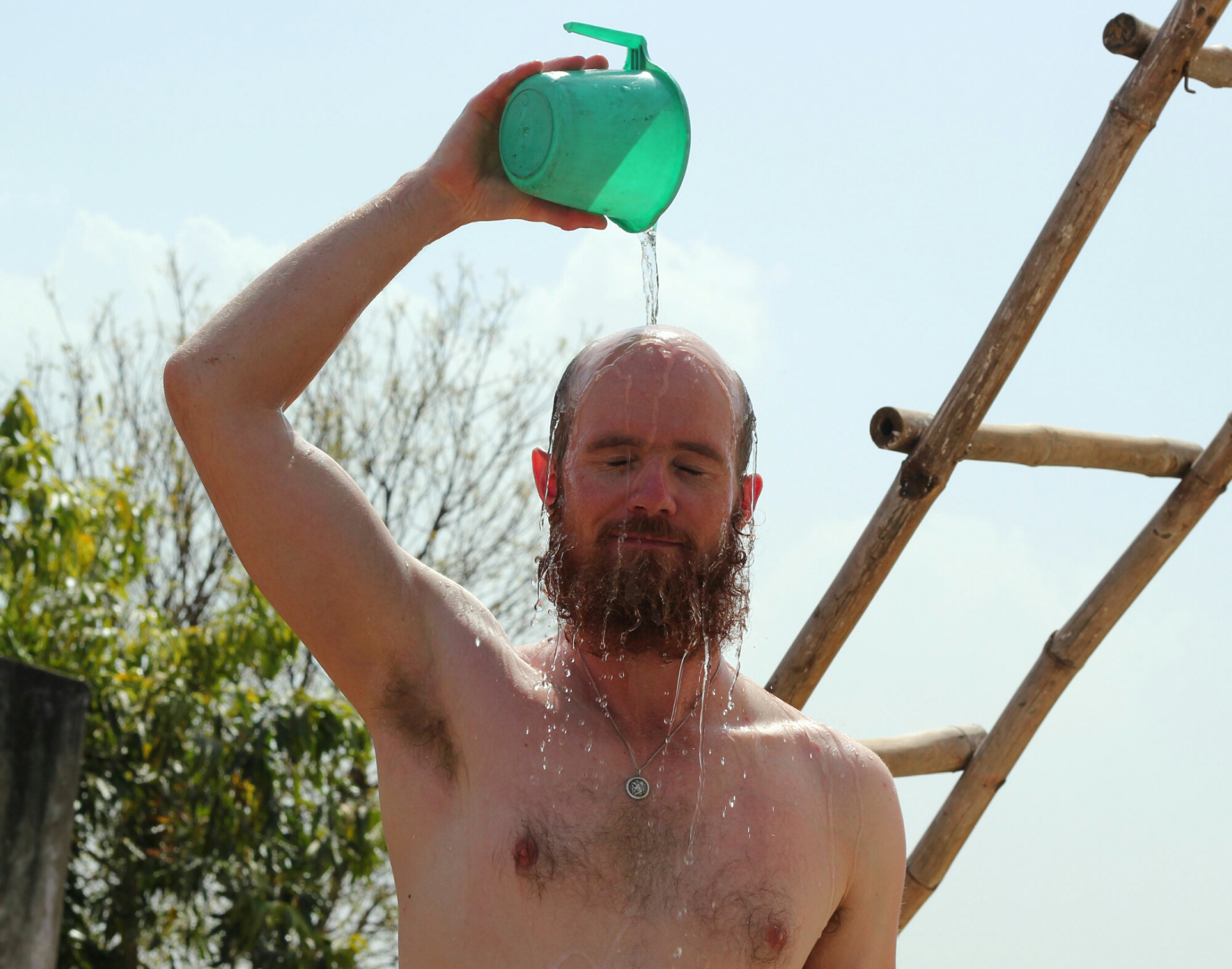 I have become adept at cooking dinner using a single gas hob – and it isn't always instant noodles. Most recently, due to the scarcity of bread and oats in rural Korea, I've been making bread. The novelty of kneading together a batch of dough in a riverside public park hasn't yet worn off. Take that, Mel and Sue.
Lunch is eaten in supermarket car parks most days. This is usually because we're too starving to pedal to a more picturesque spot. Very occasionally, we plan ahead and buy food before we're hungry enough to eat our own arms, as this collage demonstrates: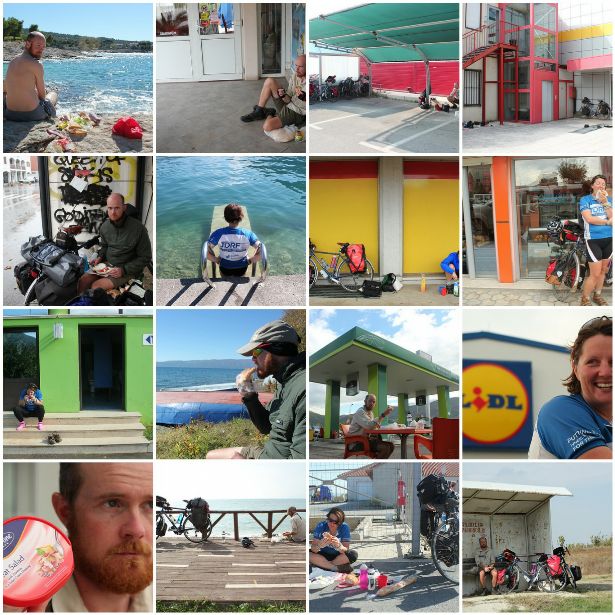 We spend a disproportionate amount of time at lorry parks and petrol stations. They often make good camping spots as they usually have loos and running water, and our presence seems to entertain the night staff no end. However, these days we sleep almost anywhere.
We've made our bed in parks and on beaches, in sports arenas, mosques and churches, under pagodas and on top of mountains. On bad days, we sleep by the side of the road. On good days, we find somewhere quiet with running water and shelter. We sleep outside much of the time, in our tent or simply under the stars in our bivvy bags, waiting for darkness to fall and crowds to disperse before bedding down. We've also been offered a number of abandoned houses to sleep in: usually a bit creepy, but affording shelter from the elements.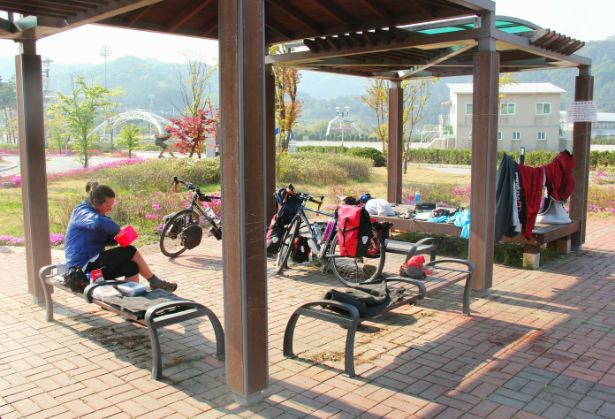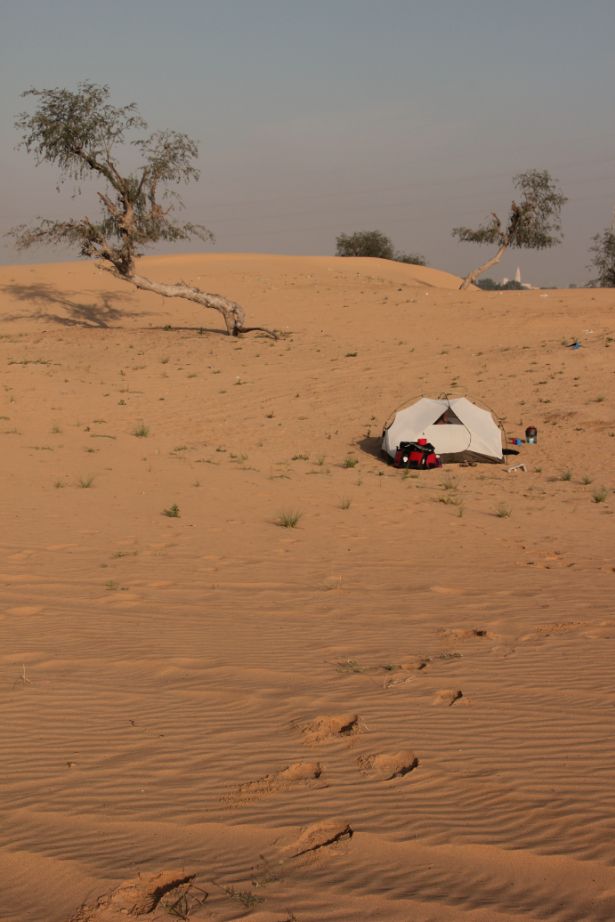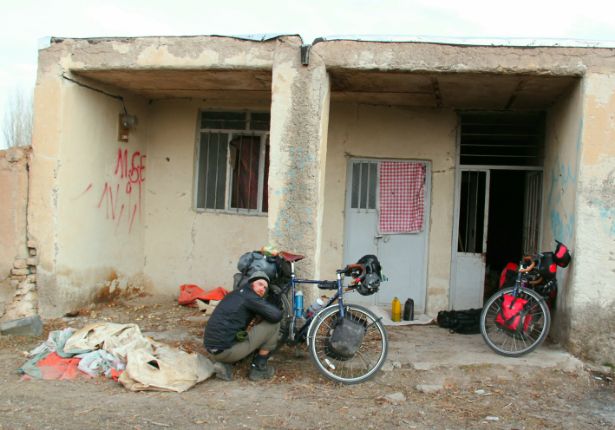 And so we are brought back to the disabled loo. It was somewhere dry to sleep, wash clothes, wash dishes, cook dinner and make bread. On top of that, it had electricity: to read at night without a head torch is indeed a treat. It might not be everyone's idea of a perfect spot but for us, at that moment, it was home.