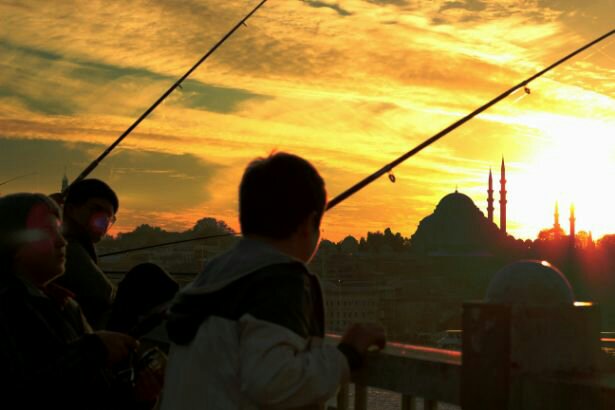 To be perfectly honest, we were dreading our arrival in Istanbul. We had heard other cyclists go on and on about what an awful city it is to cycle in and out of, with the main roads into the city effectively being four lane motorways.  Traffic from the whole of southern Europe is funnelled into a tiny span of land before being spat out across the Bosphorus into the rest of Turkey, and the sheer number of vehicles on the road makes for a terrifying experience.
If you are planning a cycle trip to Istanbul, do not fear. We managed fine. There is one simple rule: avoid the D100.  We had one terrible evening pedalling along this nightmare of a road in the dark – our worst cycling experience to date.  What follows is our advice on the best cycling routes into and out of Istanbul.
Cycling into Istanbul from the south west (for example, entering Turkey from Greece)
We entered Turkey from Greece, via Keşan.  Our route approached Istanbul from the south, pootling along the shore of the Sea of Marmara.  We were recommended this option by cyclists who live in Istanbul, with lots of experience cycle touring around that area.
The basic rule for our route is to stick as close as possible to the south coast.  It was a lovely journey, following traffic free bike lanes along the seafront and through parks for much of the way.  I haven't included a map of the route as the bike paths don't appear to show up on Google Maps, but trust us, they're there.
We left the D100 at Silivri (a nice little seafront town) then threaded our way on smaller roads and following traffic free cycle paths along the sea front for quite a long way. We used smaller roads through Beylikduzu (Sari Zeybeck Cd runs parallel to the D100 for a bit).  Around Avcilar Sahil Parki the D100 runs along a narrow bit of land between the coast and a lake – on Google Maps it looks like there's no other option but the main road, but it's misleading and there's actually a minor service road and/or pavements bikes can use so we were hardly on the main road at all.
After this came the real joy. Between the airport and the coast, in Bakirkoy, we pedalled for a relatively long way on traffic free cycle routes along the sea front. Total winner. You end up on Kennedy Avenue right in the centre of Istanbul old city, and even this big road is fine as there is a designated cycle lane.
It may sound complicated but it really isn't.  Just stick as close to the south coast as possible and enjoy.
Cycling into Istanbul from the north west (for example, entering Turkey from Bulgaria)
Other cyclists have recommended this route which approaches the city from the north and is apparently a pleasant bike ride along quiet roads.  This would be an option if you entered Turkey from Bulgaria, at Edirne.
[NOTE – since publishing this article I have been told this route is now a 4-lane motorway. See the first comment at the bottom of this page for more details.]
Cycling into / out of Istanbul heading east
Leaving Istanbul, we followed the advice of another local cyclist. Again, the idea is to basically stick as close as possible to the south coast.  We took the ferry to Kadikoy (apparently cyclists are technically forbidden from pedalling across the Bosphorus Bridge, although we know of people who have done it). From Kadikoy, we cycled for a couple of kilometres on roads, then picked up the seaside boulevard with more traffic free paths for cyclists.  We would highly recommend this option.
A GPS of the route out of Istanbul heading east is available here.
Other advice
If you are planning to cycle in Turkey, we suggest joining the Warm Showers Turkey Facebook page.  It is extremely active and we used it to find accommodation, help with fixing a broken wheel, often with more success at eliciting a response from people than through the Warm Showers website.  Don't be afraid of writing a request in English if you don't speak Turkish, there's always someone willing to act as translator.