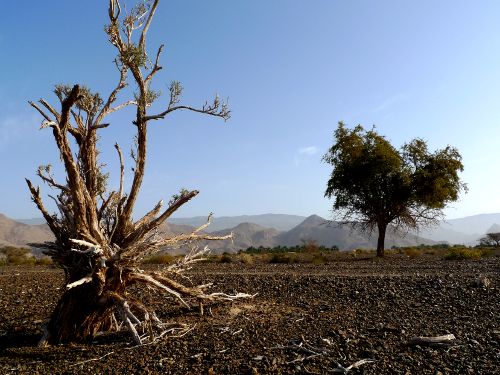 One of my favourite things about living in Oman was the food and the experiences associated with eating and drinking there. From high class hotel restaurants (OK, only once) to grim-looking roadside cafes where you can get a table full of curry dishes for the price of a packaged sandwich in the UK.
Below are some of my recommendations. They may not all be uniquely or even traditionally Omani but, if you're planning a visit, make sure you don't miss the following…
Dates. Fresh dates. Dried dates. Date juice. Date syrup. Non-alcoholic sparkling date wine. Date milk shakes. Date lattes. Chocolate dates. Date mamoul. Do not leave the country without having tried dates.
Sitting on the floor, eating with your hands from big communal dishes. That, I believe, is the Omani way.
Fatoush. Blissfully simple ubiquitous salad with crispy, fried bread.
Baisa sandwiches. The super cheap wraps sold from pokey cafe stands at most petrol stations. Typically egg, chicken and falafel. The petrol station near the MQ exit from the New Expressway (the old Death Valley Road) is legendary. Shawarma, in particular, is addictively delicious.
Dirt cheap Indian restaurants. The biggest ex-pat community in Oman is by far and away the Indians. The country is littered with little restaurants offering fantastic food in large quantities at rock bottom prices.
Lemon-mint. The super sweet, refreshing drink of choice in Omani restaurants. You'll soon find yourself selecting your evening's venue based on the quality of its lemon-mints.
Fancy hotel buffets. Muscat has plenty of big, expensive hotels with great restaurants attached. Not my usual cup of tea but a big part of Muscat life (and the food is great!).
Fresh fish. The supermarkets teem with sea food that's as delicious as it is cheap (I noted that fresh sardines were cheaper than the tinned variety). There's a fish market most days at Mutrah corniche.
Omani coffee. I'm not a coffee drinker myself but even I had to try the extra strong, tiny cups of coffee of which the Omanis are so fond. Often flavoured with cardamom and/or cloves.
Halwa (not halva). Sickly sweet snack that helps contribute to the growing diabetes and obesity problems of the Gulf. Perfect with the coffee.
What did I miss?
(If you want help sourcing the best of any of the above,
email me
)