After the efficiency and obsessive cleanliness of Japan, it was with a certain amount of trepidation that we entered Vietnam. I'd wanted to come here for years, but wondered whether the craziness of the traffic and the inevitable attention we'd get as a couple of white cyclists would make it too stressful to enjoy the place.
I needn't have worried. 
Once we left the smog of Ho Chi Minh behind, we found ourselves weaving a path through the complex web of the Mekong Delta as it fans out across the southern Vietnamese countryside. This place is Eden: dense jungle conceals innumerable orchards and plantations, meaning fresh fruit is available everywhere, at rock bottom prices. We passed huge sacks of spiky pink dragon fruit being prepared for export, piles of mangoes dumped on the roadside and stalls heaped high with green coconuts, just waiting for dehydrated cyclists to pass by. After the prohibitively expensive fruit in Japan, this was paradise.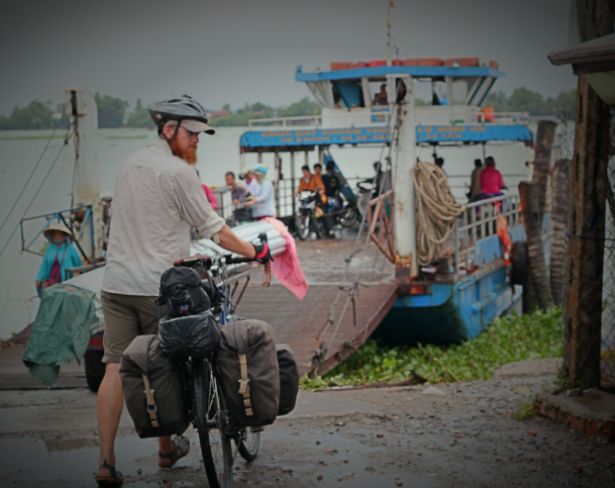 We criss-crossed the many channels which make up the delta, catching small local ferries where necessary. Other tourists were rarely seen and we enjoyed interacting with the friendly locals, who were always eager to help us out. Vietnam has an incredible number of cafes and we took advantage of the shelter they offered from both the intense heat and the frequent tropical downpours. Most cafes doubled as karaoke joints and one wet afternoon, a cafe owner guessed correctly that we would appreciate a Michael Jackson medley while we waited for the rain to pass.
Come lunchtime, we ate vast piles of rice and grilled meat (usually unidentifiable, often offal, always tasty), followed in the afternoon by Vietnamese iced coffee, the consistency of treacle, as a pick-me-up. In the evenings, we found a cheap hotel to stay in – never more than five pounds for a room. Although we usually camp to save funds, the density of the population meant finding decent camp spots was tricky and every time we asked about camping, we were directed to the nearest hotel. We didn't complain too much – the luxury of an electric fan on sweaty tropical nights was well worth it.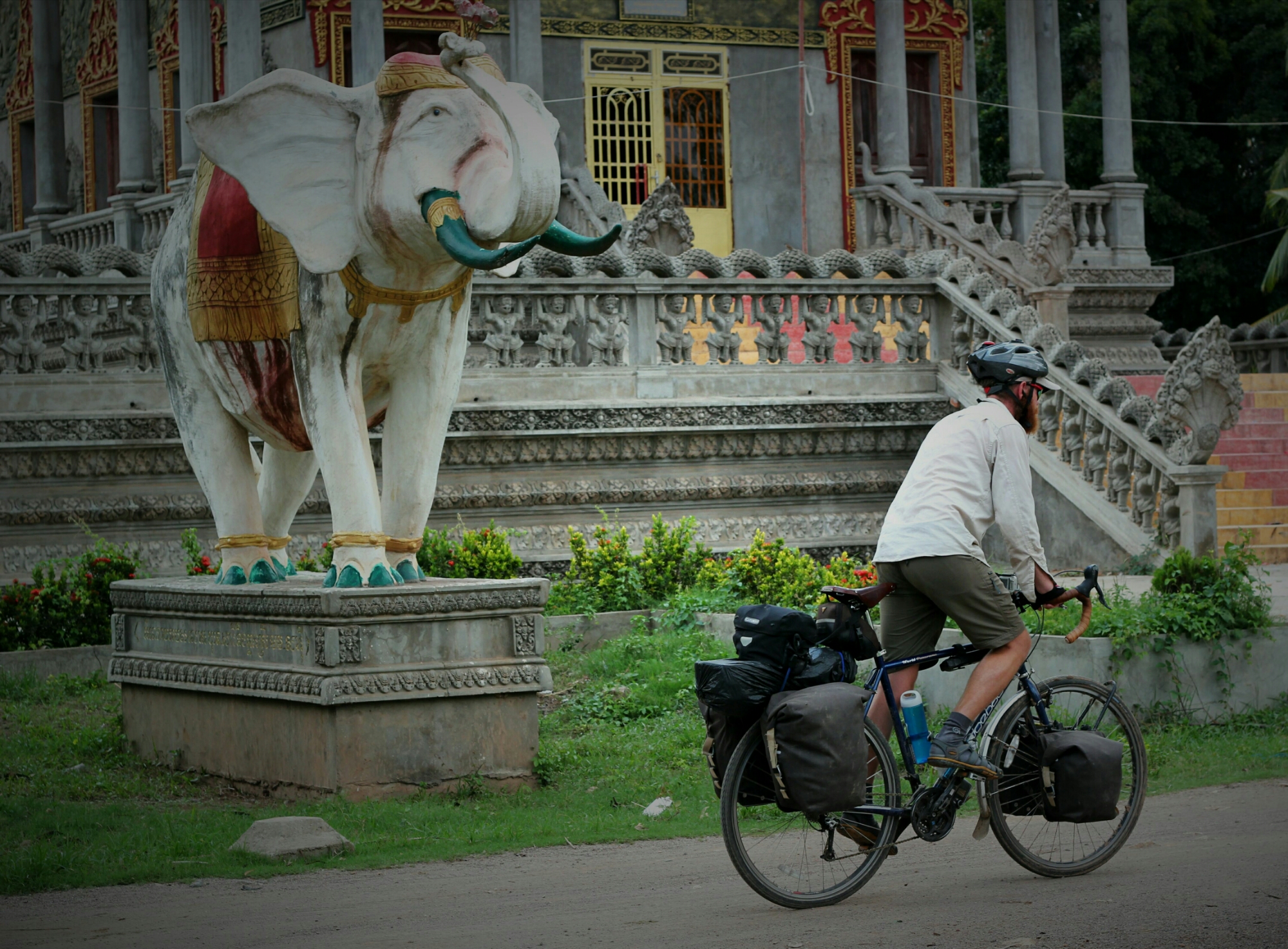 From Vietnam, we entered Cambodia. The architecture was beautiful and the people friendly, despite the tumultuous past of the country. We spent a few days as regular tourists in Phnom Penh, learning more about the grim history of the Khmer Rouge, before heading north to the Angkor Wat temple complex at Siem Riep. This surpassed expectations and we spent a happy day playing Indiana Jones as we wandered around the ruins.
We have now made it to Thailand and are about a week's ride south of Bangkok. It's still disgustingly hot and humid, but the higher costs of living here mean we've gone back to the tent. Despite the discomfort of sleeping under sticky canvas, mosquitoes mean we can't just sleep outside – although it hasn't stopped Tim on occasion putting on long sleeves and a head net and finding a hammock to settle down in.
Happily, the food is still cheap and delicious, and convenience stores live up to their name as a handy source of free ice for our water bottles. For the first time since the Middle East, we've also found affordable muesli, which as those that know Tim will realise, has had a dramatic impact on morale. Perhaps as a result of the muesli, we're cycling harder and for longer than during our whole trip – and relishing the change of pace.
In a couple of weeks we will enter Malaysia, where a friend is flying out to meet us for a few days. Finally, at the end of July, we say goodbye to Asia – our home for the last few months – and fly to Australia.
South East Asia is a lovely place for a bike tour and we're having a ball. If we were here at a cooler time of year, it would be perfect – easy cycling, tasty food available everywhere and relatively safe. It's yet another place we'd highly recommend.