A guest blog today from James Menta who runs the Best Air Mattress Guide. If you're looking for an inflatable bed then his website is the place to go. You might also like my Comparison of Camping Mats article.
Now, I'll let James put you to sleep…
How to get the best night's sleep on an air mattress
by James Menta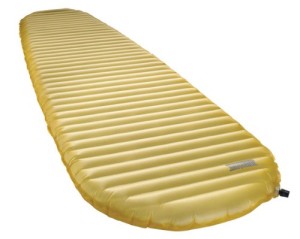 This one goes out to adrenaline junkies and adventurers who might find themselves in the cold with nothing but a backpack.
If you are a campervan man, you can sit back and open another bag of potato chips 'cause chances are you won't be needing the tips I'm about to share anytime soon.
To provide the best possible advise for getting a good night's sleep outdoors, I'll assume the worst case scenario – that you found yourself in the cold only with some sleeping gear in your backpack and maybe a tent. If you know how to get good sleep in these circumstances, any other sleeping situation will be a breeze.
Let's dig in and see what you can do to get the much needed good night's sleep with nothing but vinyl and a few inches of air between you and the ground.
6 tips on things that can make or break your adventure:
Tip 1. A dry sleeper is a warm sleeper
I know you might be tired and can't wait to close your eyes and just drift away. But if you're wet or just sweaty from the trip, you'll HAVE TO change your wardrobe completely before going to bed (given that you don't think that a pneumonia is a nice adventure, too).
Note that I said "change completely" – this doesn't mean just changing your socks and that wet t-shirt, I mean completely, head to toe.
Tip 2. Keep warm
if you are in the cold, have a quick meal and a glass of warm cocoa or tea before you go to sleep. Make sure that your drink is not hot but just warm enough to be pleasant and not get you sweating again.
If you have them at hand, putting a bottle or two of hot water under the cover 10 minutes before you go sleep is a great idea.
Tip 3. Keeps the bugs at bay
I hate mosquitoes. I hate these little pesky buzzards with the kind of zest that gives me energy. So, believe me, I know my mosquito stuff.
These few tips will do the trick every time:
go high and dry when choosing a spot to settle
choose a water resistant bug repellant
when choosing personal hygiene products to take on your trip go for the scent free ones – any perfume is like a party invitation. If you using perfume was a Facebook status, 12.400 mosquitoes would like it and share it
this one is cool – bring a few branches of sage and burn them in the campfire just before you go to sleep. They hate it. And I'm loving the fact that they hate it.
Tip 4. Night caps are a no-no
Yeah, yeah, I know, you hate me, but it is what it is. Warming up with alcohol is not the way to go if you are in the cold. It will warm you up for a bit, but then it will mess with the temperature regulation in your body, doing more harm than good.
Tip 5. Use layers
Just a few more of these party-pooping tips and I'll start to sound like your mother, but if there is a secret to getting a good night's sleep on an air pad it's layers.
Here's what I do:
– I put one of those thin foam sleeping mats under my sleeping pad
– if it's cold, I wrap a dry piece of clothing around my legs – it keeps your feet warm and it's great waking up to a warm t-shirt to put on
– I use a small gel pillow that packs nice and small. I wrap it in a t-shirt to avoid slippage
Tip 6. Don't fall asleep
Right, so the final tip of getting a good night's sleep is not falling asleep.
Some expert I am, huh?
Seriously now, here's what I mean – don't fall asleep right away, fight it for a few minutes.
Why?
Because when you lay down, your blood is still rushing, and you feel warm. Only when it settles (in 5-10 min) will you be able to feel how warm you really are. This will allow you to add or peel some layers and get into that just-right zone.
If I helped a little here and the hatred of telling you not to drink on your camping trip is fading, kill a mosquito for me some day.
Take care and sleep tight.
Read more about inflatable air mattresses on James' website or read my Comparison of Camping Mats article (fast becoming the most popular page of my whole site) – Tim.