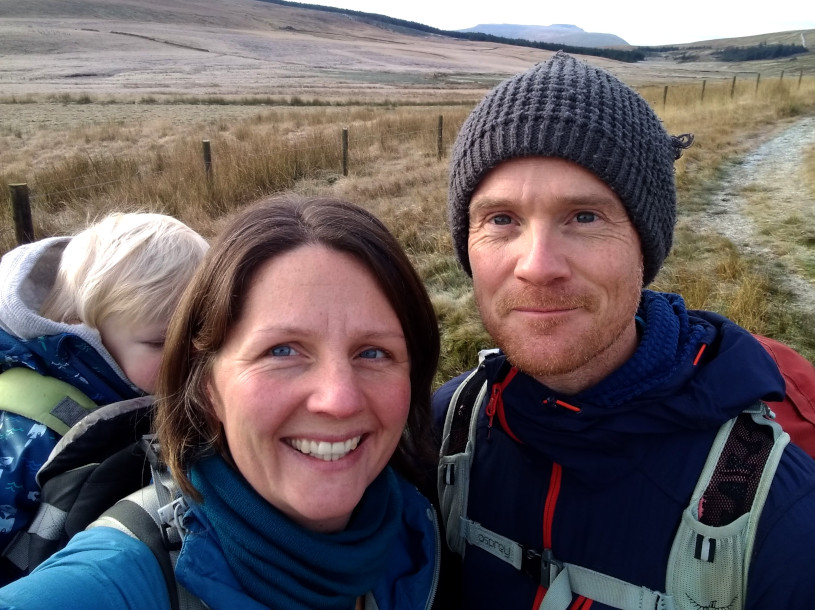 In December 2019 (pre-Covid), Laura and I walked the 80-mile 'Dales Way' long-distance footpath, carrying our son along the way. Here's how it went…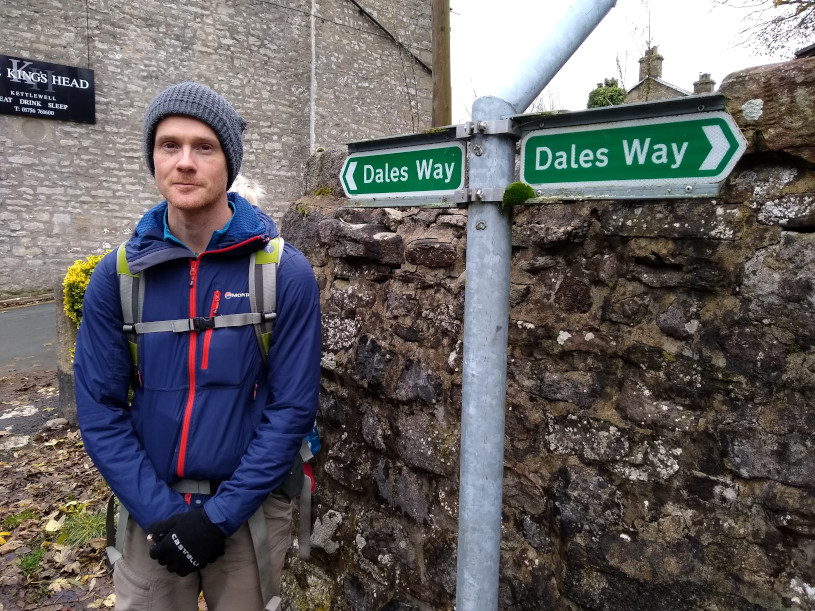 Our plan was to spend a week walking the Dales Way. As luck would have it, the start of the Dales Way is not far from our current home in Yorkshire, and the end of the route passes by our future home in Cumbria. It felt like a symbolic gesture, to walk from Yorkshire to Cumbria, across the watershed of England, and from one residence to another. We also wanted to fit in one more long distance walking trip, before our son grew too big to carry. He was 14 months old at the time, and still small enough to lug about on our back in a baby carrier.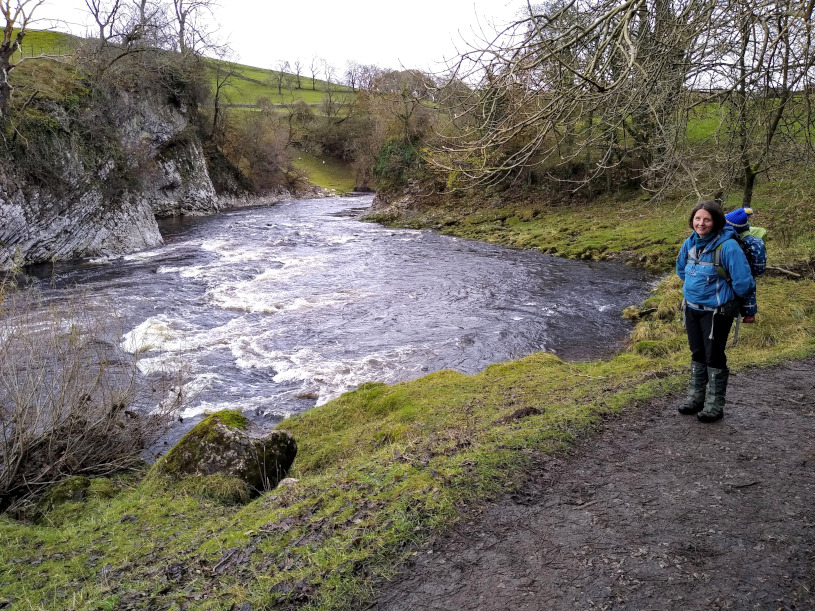 Setting off
We set off from Ilkley and headed up to Bolton Abbey and on to Grassington, following the river Wharfe upstream. Following a river to its source is a wonderful adventure, and gave us a new appreciation for an area we know reasonably well. We were walking 8 or 9 miles a day, which gave us plenty of time for rest stops to give our son a break from his carrier, but still felt like we were getting a reasonable day's walking in.
For the first couple of days, we were able to get the bus back to the start each afternoon, meaning we could have an evening at home and a night in our own bed. We didn't want to camp on this trip, as we had enough to carry with a child on one of our backs, without having to haul winter camping kit as well. So when bus links weren't possible, we stopped in B&Bs along the way. It meant we could get by with just a 35-litre rucksack between us, along with the baby carrier we were using, which has a big space underneath the base which we used for bulky, lightweight things, such as nappies.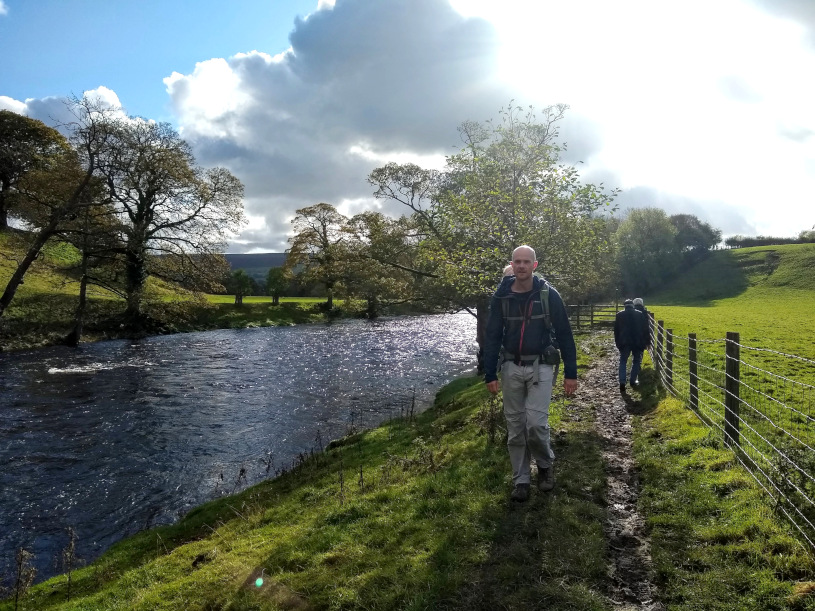 Cold and a cold
One of our biggest problems was keeping our boy warm enough, when he was in the back of a rucksack for a full day. We walk a lot as a family and normally, we'd be able to stop in a cafe to warm up, or just abandon a plan and head back home. That wasn't possible this time: there were few cafes and we needed to push on each day, to reach that night's accommodation. The temperatures were consistently below zero, and so we put extra layers of baby and adult socks on his feet, instead of his usual wellies.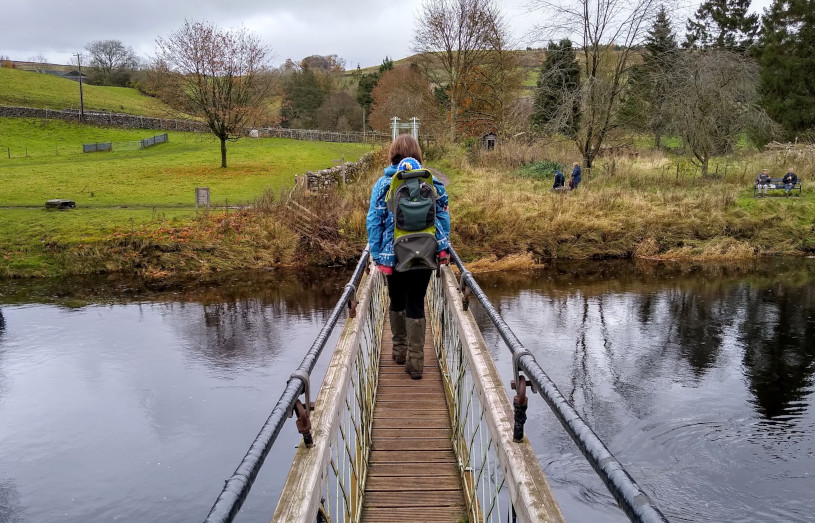 Halfway through the trip, we were feeling like terrible parents for putting our baby through a few days of sub-zero temperatures, and this feeling was only exacerbated when he developed a horrible cold. So, as we reached the high point of the route, near Oughtershaw, we stopped in that night's farmhouse accommodation and decided to change the plan. To give our boy a rest, we decided to convert our family walking holiday into a solo running holiday: in the mornings, one of us would run the day's route while the other did the childcare, then we'd switch roles in the afternoon. This plan required a car but our route took us past Ribblehead Station the next day so we were able to nip home on the train to get it.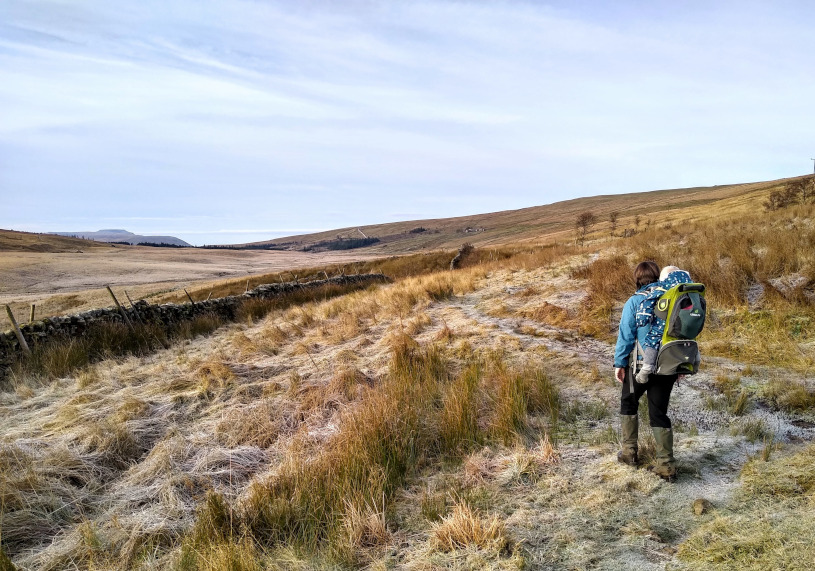 Running before he can walk
For the second half of the journey, we each took it in turns to run sections of the route. Laura would run a few miles while Tim drove ahead to the next village. On arrival, Laura would jump in the car and drive Tim back to the start, so he could have a turn running the route. Not great for petrol use, but in the grand scheme of things our carbon footprints for this trip were pretty low, so we were comfortable with the choice.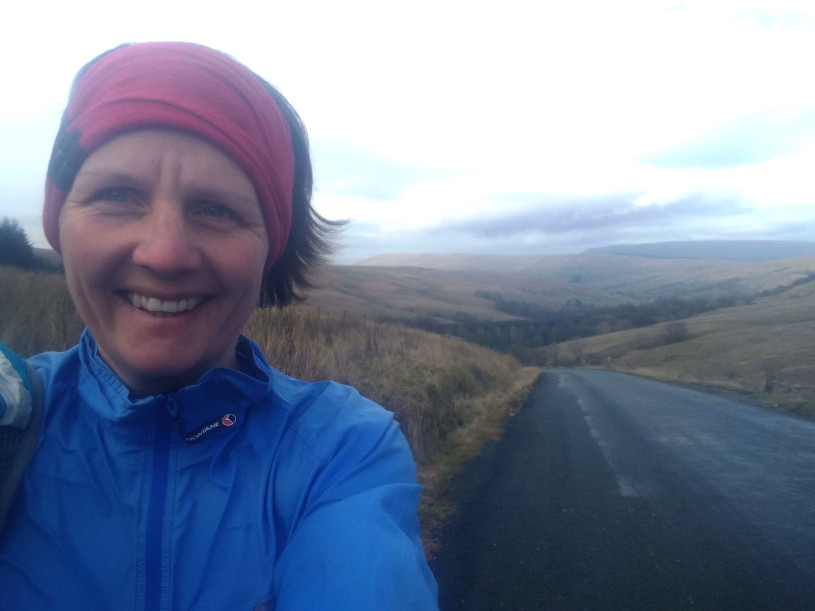 It had been some time since either of us had done a nine-mile off-road run, let alone doing that on several consecutive days. Fortunately, we long ago adopted the idea of training for life: making sure we always keep reasonably fit enough to take advantage of any unexpected opportunities which might crop up, such as unplanned running holidays.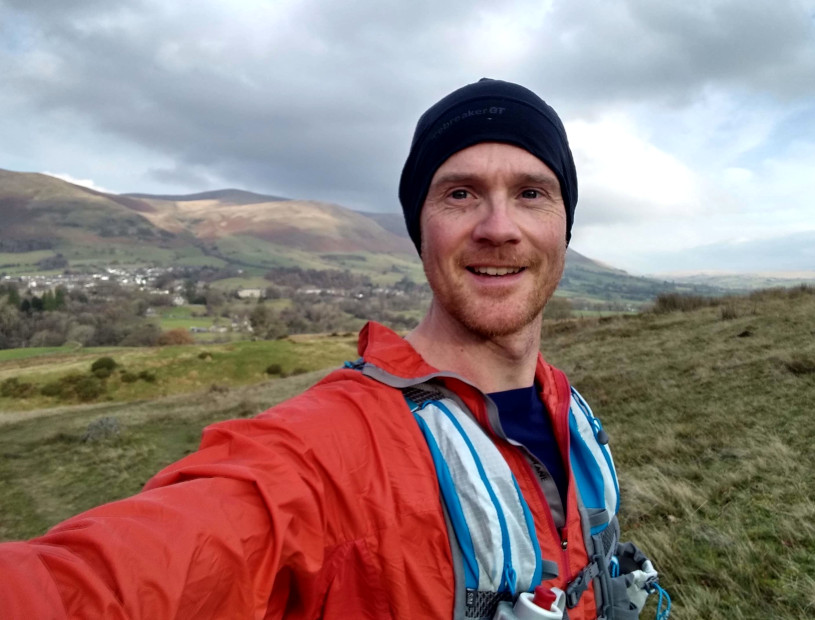 Time alone
What began as a family walking holiday turned into something of an endurance event where we each spent most of the day alone, running through some of the wildest and most beautiful landscapes Yorkshire has to offer. We would reconvene each afternoon, to cook dinner and monitor our son as he practised his newly-developed walking skills.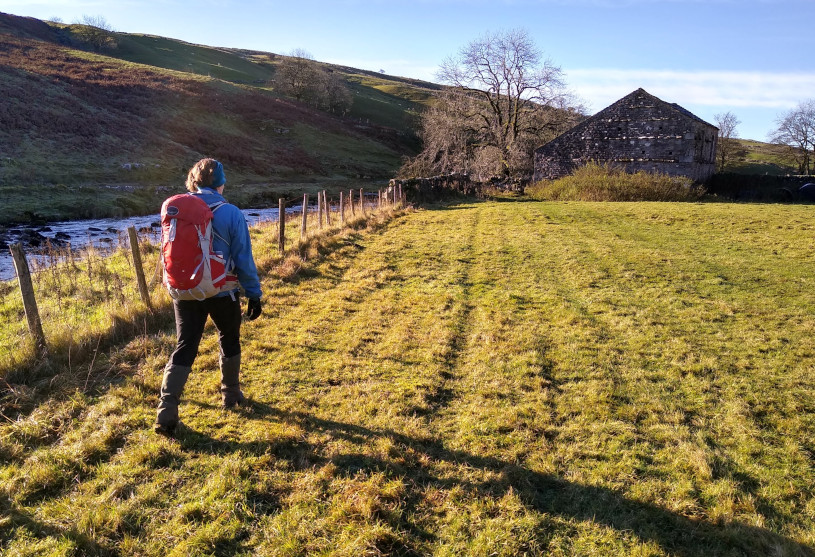 It might not have been our plan, but it turned into a wonderful, albeit slightly weird, holiday. With children, it's so rare to find time alone, and having a couple of hours to ourselves in the hills every day was a luxury and a privilege. It was also nice to spend a couple of hours on our own with our little boy each day, giving him our full attention rather than constantly trying to have a conversation with each other.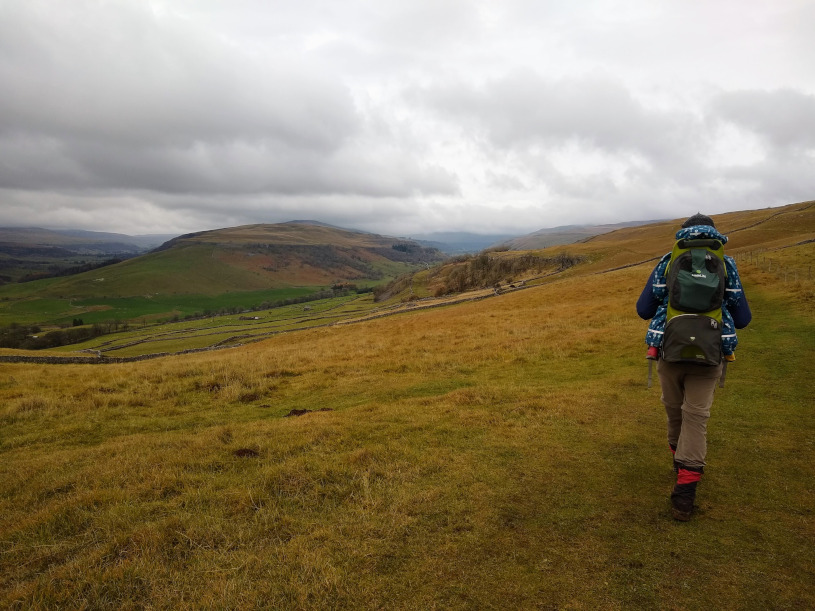 Keeping life interesting
Above all, it was an excellent lesson in the unpredictability of parenting. We've never been great at detailed trip planning, preferring instead to wing it (carefully sold as the idea of 'remaining open to opportunity'). As parents, we have to plan a bit more, to take into account the need for diversions and rest stops, but we now assume that whatever plans we do make will need to change at some point. After all, it keeps life interesting.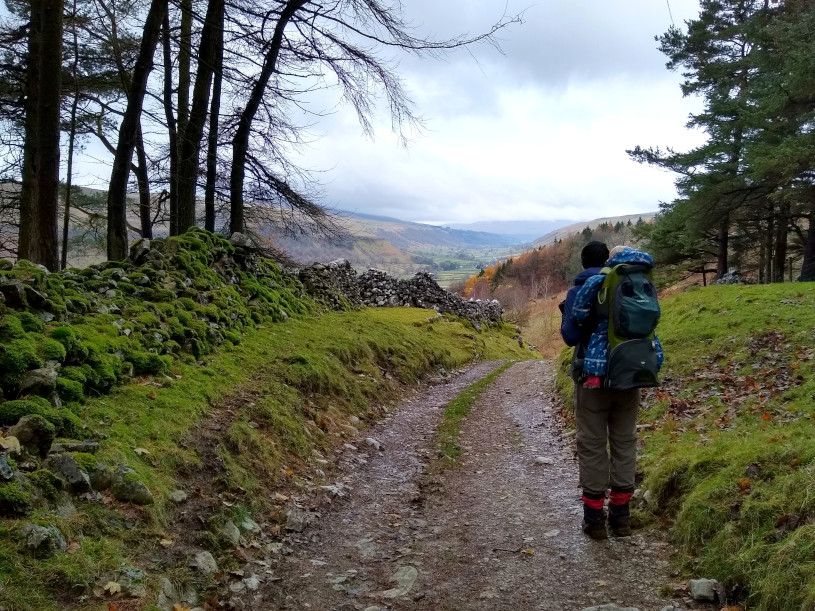 ---
Daily itinerary
We completed the first section from Ilkley on a weekend prior to our week-long walk, which went roughly like this:
Strid Tea Rooms – Grassington (8.4 miles)
Grassington – Starbotton (8.3 miles)
Starbotton – Oughtershaw (8.6 miles)
Oughtershaw- Gearstones (5.9 miles)
Gearstones – Dent (9.3 miles)
Dent – Lincoln's Inn Bridge (Sedbergh) (8.2 miles)
Lincoln's Inn Bridge (Sedbergh) – Meal Bank (9 miles)
Meal Bank – Staveley (6.5 miles)
Staveley – Bowness (6.5 miles)
More details at www.dalesway.org