In 2011, an earthquake and tsunami hit the east coast of Japan and devastated much of its coastline.
A huge effort has been made to repair and rebuild in the years since the disaster and part of that effort included the creation of a brand new walking route. The Michinoku Coastal Trail runs the along coastline in Aomori, Miyagi, Iwate and Fukushima Prefectures, where the tsunami hit, and has only recently been opened.
Last year I awarded a grant to Robin Lewis who intended to be one of the first people to walk the entire length of the trail. He is half-Japanese and has spent several years working in the area, helping with the recovery efforts.
Robin's walk received a good amount of press coverage, with articles appearing in Metropolis Magazine, Go Go Tohoku, Outdoor Japan and more to follow.
This, however, is the story he's written for us…
---
The Next Challenge Grant
Robin's trip was supported by The Next Challenge Grant, an annual bursary for aspiring adventurers.
It's funded by me – Tim Moss – several other adventurers and crowdfunded public donations.
Since 2015 it has supported 40 different expeditions with awards from £50 to £800.
---
Walking the Michinoku Coastal Trail along Japan's Tsunami-Affected Coastline
by Robin Lewis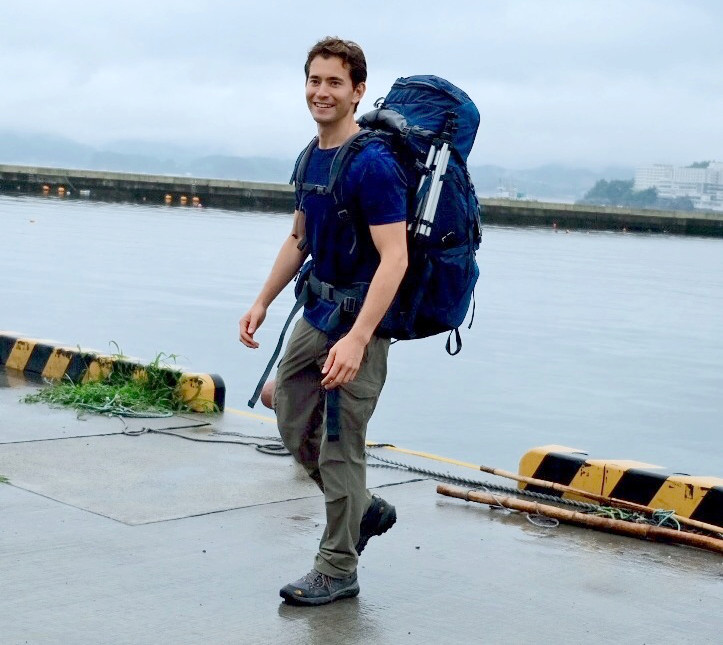 This summer, I set out on a journey to walk 600 kilometres along Japan's northeastern coastline, following the newly opened 'Michinoku Coastal Trail'.
I must admit, my journey was a little harder than I'd imagined… Temperatures reached over 36 degrees, I was walking alone through bear country, and was delayed by severe weather several times. I'd also packed my rucksack with everything I could possibly need (3 cameras, tripod, solar panels, bear bells… the works) which ended up weighing more than 25kg.
With hindsight, I can confidently say that despite (or is it because of?) all of these challenges, I undoubtedly had one of the best experiences of my life.
This lesser known region of Japan – known as Tohoku – was devastated by the Great East Japan Tsunami. On 11th March 2011, a 9.0-magnitude earthquake triggered waves of over 30 metres in height that devastated the coastline, claiming over 20,000 lives and wiping entire towns off the map. Six years on, Tohoku is still recovering from the effects of this so-called 'triple disaster' (earthquake, tsunami, and Fukushima nuclear crisis).
I've been working in the area's recovery since the tsunami hit, and am also half Japanese (my mother's family has roots there), which made this a rather personal journey, and something that I'd been yearning to do for years.
I had two reasons for wanting to attempt this walk. Firstly, I hoped to use this journey as a means to document the region's recovery. There is limited news coverage now (especially in English) about how people and communities are rebuilding. I wanted to talk to survivors, understand how they are coping, and capture the lessons they learnt. I wanted to gather stories from the region, so that we can continue the conversation about the disaster, and learn from their experiences. While walking, I interviewed dozens of residents to understand the situation from the local's perspective. See an example here: "I lost my house to a tsunami, twice".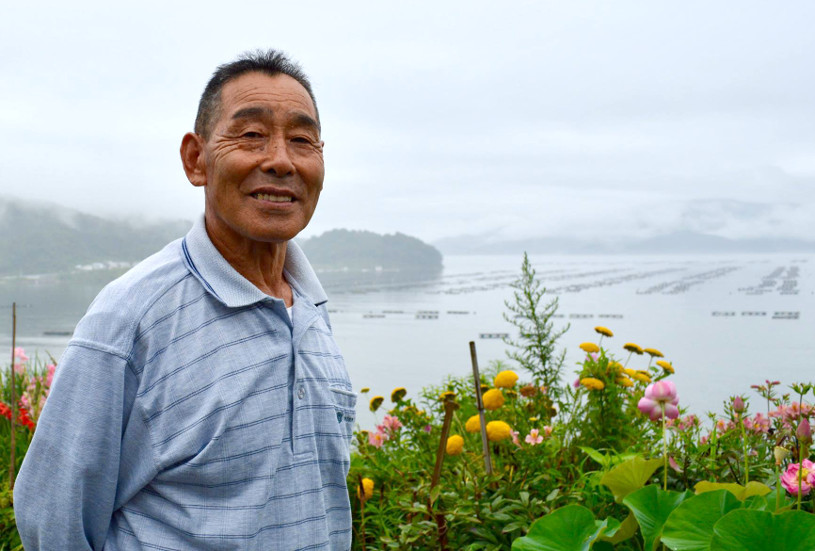 Secondly, I wanted to support the region's recovery through the promotion of tourism. Tohoku has ample potential to grow as a tourist destination and an influx of travelers is seen as one of the most effective ways to boost the local economy and ensure a sustained recovery. I wanted to write about the people, the food, the attractions, and everything in between to entice potential visitors. I even spent a day at a festival dressed up as a life-sized sea squirt – a local delicacy affectionately known as the 'pineapple of the ocean' – to promote the dish to visitors (see below)…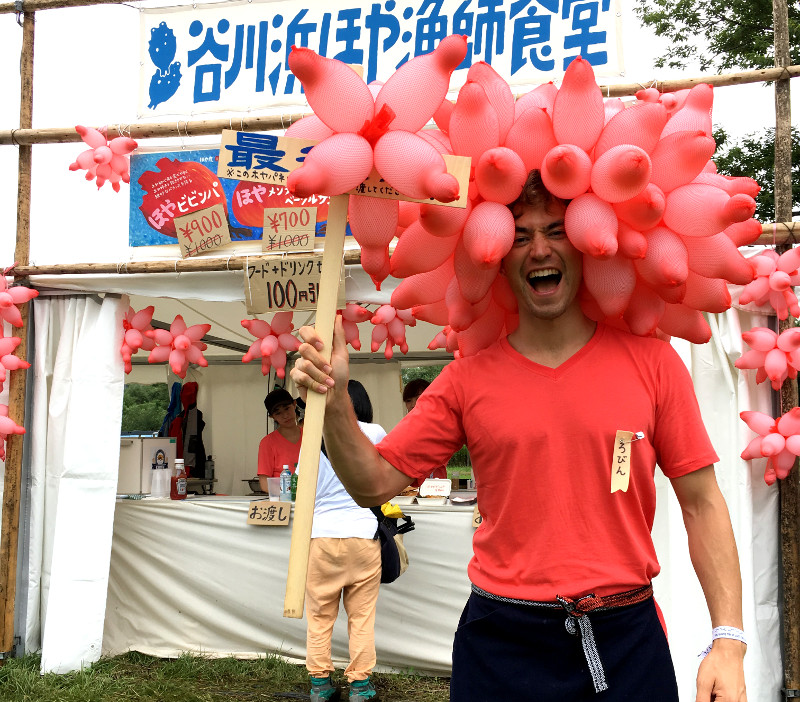 The area is home to some truly stunning scenery. It's an outdoor enthusiast's paradise, and one of Japan's best kept secrets (only 1% of non-Japanese tourists take the time to venture there).
For example, there's the Tanesashi Kaigan, a stretch of pristine coastline with jaw-dropping views of beaches, bays, and inlets. Then there are the dramatic cliffs of Kitayamazaki – 200-metre cliffs shaped by wind and water over thousands of years. There is also the island of Kessenuma Oshima, a perfect spot for camping during the warmer months, with some wonderful walks on offer.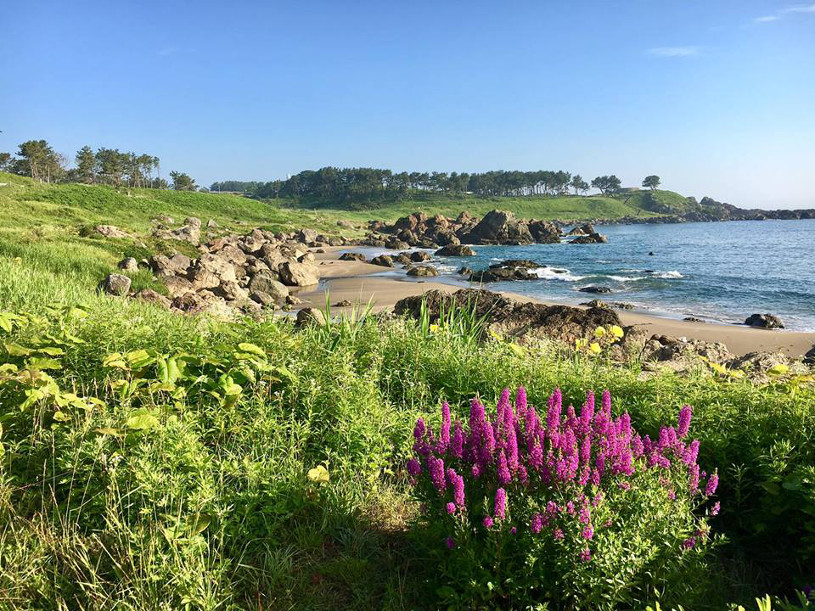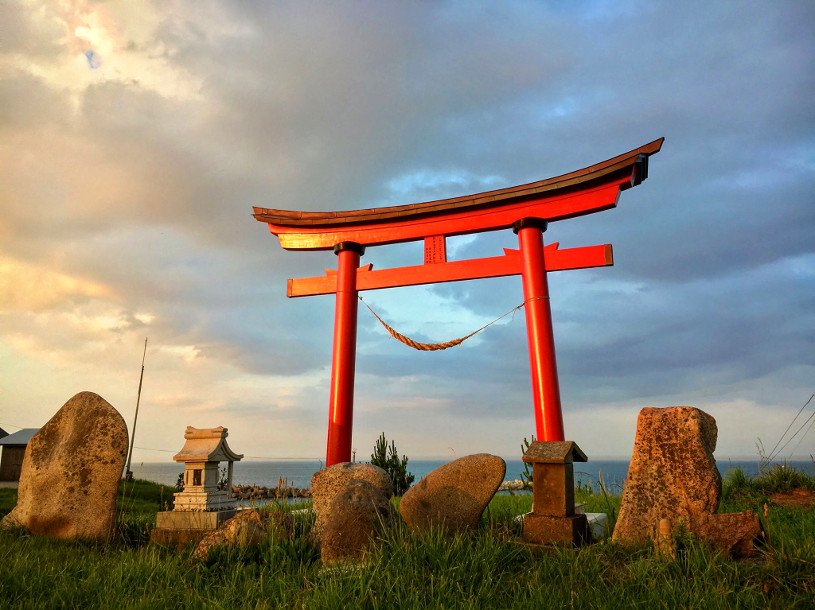 And the best things about these places? There are generally very few tourists. Over the course of my month-long walk, I only encountered a handful of other hikers following the Michinoku Coastal Trail (maybe no one else is mad enough to attempt the trail at the peak of summer…).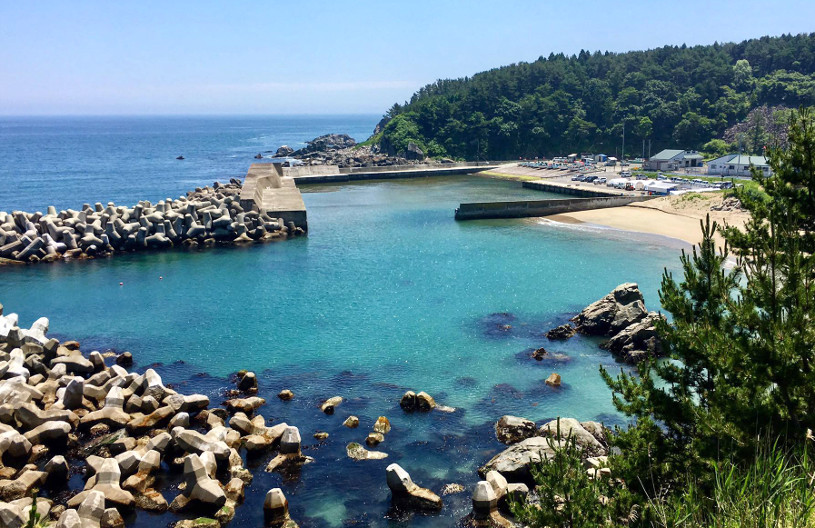 That being said, the thing that stuck with me most from the walk was undoubtedly the people I met. Ever since my first visit to Tohoku in 2011 I have always been told that the people there are shy, reserved, and like to keep themselves to themselves.
I found the exact opposite. The number of times people went out of their way to help me was just staggering.
By the end of the first week, I had already lost count of all of the random acts of kindness that came my way; the elderly woman who saw me walking in the rain and invited me into her home for a steaming bowl of noodles; the dozens of people who stopped in their cars to give me snacks, drinks, or just have a chat; the locals who bought me meals, gave me small gifts, and offered me a place to stay for the night.
One of my favourite encounters happened when I was sitting outside a public bath house, about to pitch my tent and sleep. I suddenly got a tap on the shoulder, and was greeted by two elderly sisters: "Where are you heading?" I explained my story and said (with a smile) "I'm sleeping here tonight, in my tent."
The two looked at each other and, almost immediately, said, "We have plenty of space at home, so you can sleep in our spare room… Our house isn't much to look at, but it'll be better than sleeping here." After a few attempts to reassure them that I was OK and didn't want to be a burden, they insisted, and so off we went, the three of us, to their family home.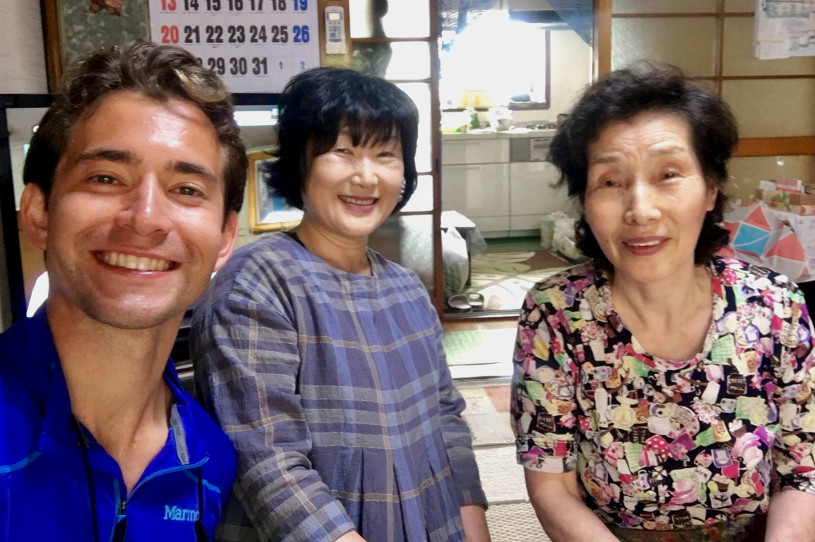 We sat around the dining table in a beautiful, traditional Japanese tatami room, eating rice crackers and drinking tea, laughing. We spent hours talking about everything from politics to romance. As the night was winding down, I asked: "Why did you come and talk to me? You didn't have to, but you went out of your way to help me out."
After a brief pause, one of the women said, "The tsunami took away so much from us. We lost family, and our house was washed away…it was a time of extreme hardship, grief, and sadness. In the weeks, months and years that followed, so many people from outside the area came to help us. People who had never been to our town were working alongside us to rebuild it – complete strangers… Now, we're doing our best to move on. So I think it's important to pay it forward."
There were countless encounters just like this that made my journey in Tohoku one that I will never forget. And I sincerely believe that we can learn so much from people's stories, especially people who have been through something as tragic as the 2011 tsunami in Japan. This is why I plan to continue writing about the region and its people's remarkable stories going forward.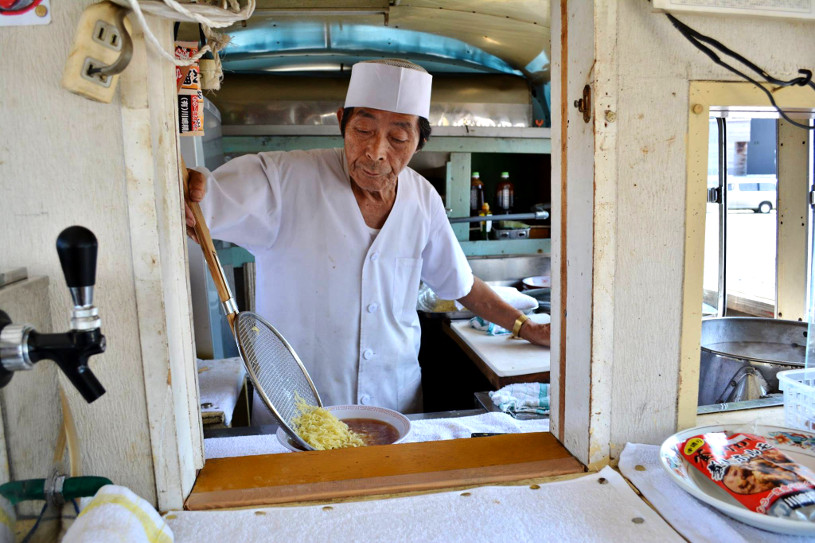 614km walked. 28 days. 894,420 steps. It was one hell of an experience. And I hope my journey also provided some value to the people living along Japan's tsunami-affected coastline, even in some small way.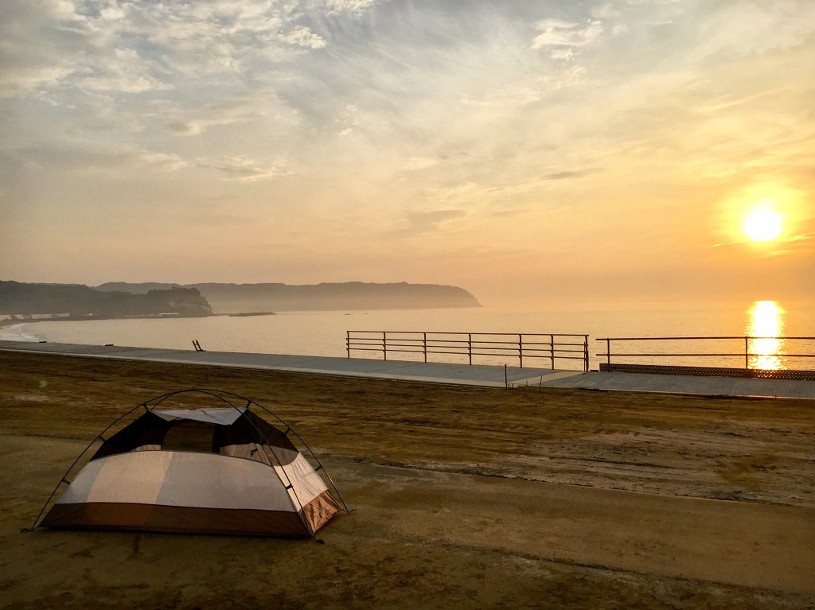 I'd like to say a massive thank you Tim and all of the generous donors who made this adventure possible – it couldn't have happened without your support.
And if you'd like to see a selection of interviews, photos, and videos from my journey, please feel free to stop by the "Explore Tohoku" Facebook Page.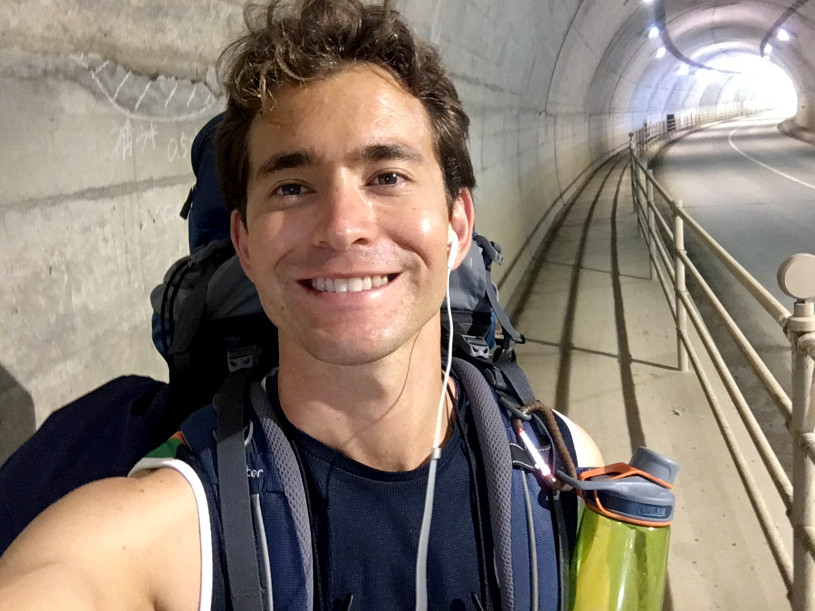 ---
The Next Challenge Grant
Robin received a £400 award from The Next Challenge Grant.
The money came from me, other adventurers and members of the public.
Do you have an adventure idea that you need help with?