It wasn't that long ago that I first got my hands on a heart rate monitor. I've never been sufficiently into the minutiae of fitness training (or dedicated enough?) to apply any kind of science to it, like using a heart rate monitor, but I do love a good competition. Particularly if it's with myself.
As such, the first thing I did was find my minimum heart rate. Before I reveal the results, however, here are some instructions to find your own resting heart rate so that you can join the game (you don't need a heart rate monitor)…
How to find your resting heart rate
Your heart rate tends to be at its lowest first thing in the morning, just after you wake up.
Even standing or just sitting up will make your heart work harder so stay lying down.
Find a pulse – wrist and neck are good places
Set a timer for 60 seconds and start counting the pulses. However high you count is your resting heart rate in beats per minute (bpm).
Heart Rate Monitors
You can get a more accurate reading for your heart beat with a heart rate monitor – there are loads of models online. Amazon.co.uk and
Amazon.com are good places to look.
Resting Heart Rates
How did you score? You can check yourself against the table below taken from the great Wikipedia article on heart rates.
Men
Age:
18-25
26-35
36-45
46-55
56-65
65+
Athlete
49-55
49-54
50-56
50-57
51-56
50-55
Excellent
56-61
55-61
57-62
58-63
57-61
56-61
Good
62-65
62-65
63-66
64-67
62-67
62-65
Above Average
66-69
66-70
67-70
68-71
68-71
66-69
Average
70-73
71-74
71-75
72-76
72-75
70-73
Below Average
74-81
75-81
76-82
77-83
76-81
74-79
Poor
82+
82+
83+
84+
82+
80+
Women
Age:
18-25
24-35
36-45
46-55
56-65
65+
Athlete
54-60
54-59
54-59
54-60
54-59
54-59
Excellent
61-65
60-64
60-64
61-65
60-64
60-64
Good
66-69
65-68
65-69
66-69
65-68
65-68
Above Average
70-73
69-72
70-73
70-73
69-73
69-72
Average
74-78
73-76
74-78
74-77
74-77
73-76
Below Average
79-84
77-82
79-84
78-83
78-83
77-84
Poor
85+
83+
85+
84+
84+
84+

My ego was suitably inflated when I registered in the low 40s (checked with my monitor and manually!). That would make me even better than the 'Athlete' category above.
I duly informed my wife, Laura, that I was a "medical marvel" and a peer to Lance Armstrong (whose resting heart rate was reported at 32bpm) when she had a go herself and clocked 36bpm.
Then you might like these…
The Minimum Resting Heart Rate Hall of Fame
Tim Moss (me): 42bpm
Laura Moss (my wife): 36bpm
Lance Armstrong: 32bpm
Miguael Indurain: 28bpm (another Tour de France rider)
What's your resting heart rate? Test yourself with a stop watch or get a heart rate monitor. Add your name to the Hall of Fame. Particularly if you can score lower than 36 to knock Laura off her pedestal.
(N.B. Laura was at pains to emphasise that she is not some kind of superhuman, just "reasonably fit" after the Tube runs)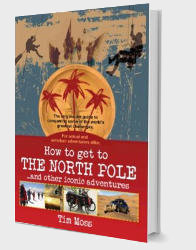 'How to Get to the North Pole: and Other Iconic Adventures' is the new guide to seven of the world's greatest adventures.
With a foreword by Sir Ranulph Fiennes, endorsement by Bear Grylls and contributions from over 50 top explorers. It is a Top 10 best-seller on Amazon's 'Discovery & Exploration' section with a user rating of five-stars. Signed copies on sale now.
Order from Amazon.co.uk  | Order from Amazon.com internationally