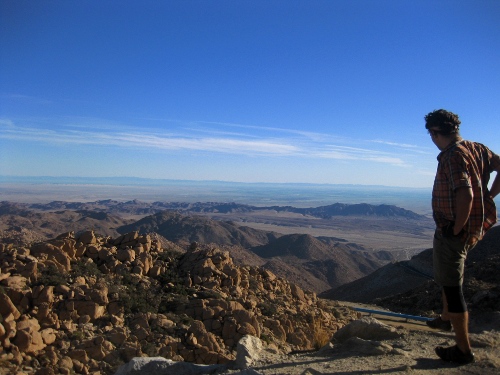 I enjoyed following Julian Sayarer's cycle around the world – This Is Not For Charity – and his wonderful writing from the comfort of my home last year. I was thrilled and disheartened in equal measure to first see him break the world record and then risk having his words and messages lost in the backlash to a final blog post.
I contacted Julian shortly after his return to let him know that I had enjoyed his writing and asked if he would be willing to write a piece for me which, I'm very pleased to say, he has.
Angry Young Man. That was what they called me. They thought it was an insult, although I welcomed it… they did not see how far short of the truth it fell, they did not see that I had come to anger through beauty.

I had just cycled around the world, I broke a world record in doing so… 18,050miles in under six months. I completed the undertaking alone, crossing deserts and following rivers, almost all of it in the company of my own head. I returned to London to be told that I had learned nothing, to be told by people who had followed me from their desks and their armchairs, that I had learned nothing. The audacity escaped them … the idea that they were better-equipped than I to know what my experience should have taught me. They could not be blamed. We lived in an age of end-products, people had abandoned the processes that created the products, and people had been told that travel and adventure constituted discovery and joy and emotional wellbeing. They were no longer interested if travel and adventure led someone elsewhere.

My travels showed me beauty, countless instances of it. Outside of Los Angeles, with my rear wheel close to falling apart, I was riding with a cyclist who remarked on the size of the buckle. He said that he had something that could fix it back at his house, and though I had to cover ground that day, and though I was doubtful that anything could fix it, when he said a second time that he would like me to go to his house with him, I felt it would have been rude to refuse.

He was a teacher, a tall guy by the name of Doug. He had such a gentle sense of right and wrong, he talked of the golf courses outside of LA, all the land and water they consumed for such a small few who actually made use of them. He stated with such solemnity that he thought it was a waste. We arrived at his flat, a modest row of tenements, close to the port of LA, they called it the armpit, it stinks, refineries belch their fumes into the sky. He went inside, came out with a bag of bananas and cereal bars. He said he had something to fix my wheel, pushed a roll of green and presidents into my pocket, forced it as I tried to force it away. He told me not to look at it. We said goodbye, and an hour later I looked at it, and it was $100.

Doug had said, within ten minutes of our meeting, that he had something to fix my wheel, and I guess he knew then that he wanted to give me that money to help me. It's humbling… to receive such charity, still more humbling to be so broke that you really cannot refuse such charity. Some people have called me an inspiration, praised my cycling 18,050 rather fast miles … I do not reject their compliments entirely, but to me it is a lesser inspiration than a man of modest means having such generosity of spirit that he will give $100 to a passing stranger. I know also which act holds a greater value for society.

I have come to anger through beauty. I feel that people are beautiful and generous and good, and it makes me so angry that our world would be run in a way that makes people an incidental part of society, not the foremost component of it.

Anger has been made taboo… it is not fashionable, it is not cool. People are encouraged to be hopeful about the state of the world, to have hope, to believe that things will improve. Hope is a distraction, it is a lie, it is passive… hope will never do anything about the world other than continuing to hope, and if people think that they can improve the world by hope alone, then they will never need do anything else. If people care about this world and the people in it, then they should be furious, angry, enraged and still more besides. Anger is the greatest harbinger of change, a thing that politicians seem to speak of a great deal. Our society is in need of changes that no politician would dare to speak of, and for those changes we need anger.