They weren't on the baggage carousel and Oversized Baggage seemed dormant. I found someone official looking and used gestures to indicate that we were looking for two bicycles.
He radioed a friend, turned and waved. At the other end of the baggage haul were two more officials waving back at us holding what looked distinctly like two bubble wrapped bicycles.
Remove packaging, inflate tyres, load panniers, depart airport.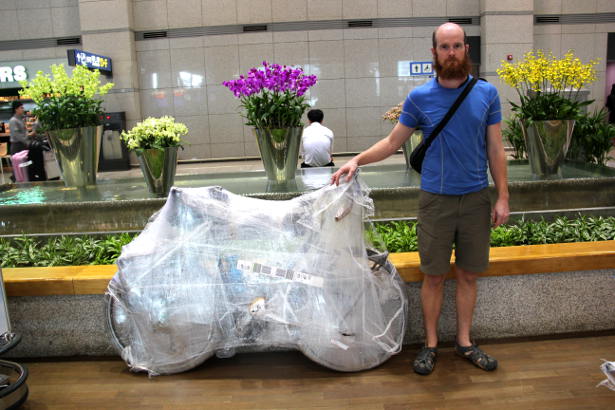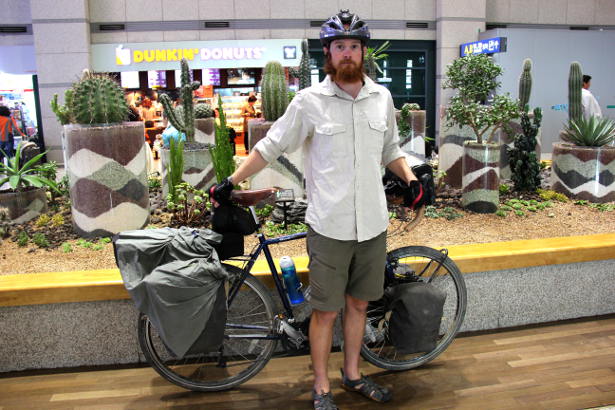 A few hundred metres down the road after leaving the airport, a police car pulled us over.
"You can't cycle here. It's dangerous", said the younger policeman in a kind, American accent.
I looked around baffled. Dangerous? It was an empty road, perfectly finished and with a huge hard shoulder for us to cycle on. There weren't even any water buffalo. Evidently safety standards are a bigger deal in Korea than India.
We explained our route and were allowed to continue to the quieter roads and take a ferry to the mainland where we wound our way through the Seoul suburbs until darkness and rain got the better of us and we descended into the subway system to make use of the bike carriages set aside on most trains.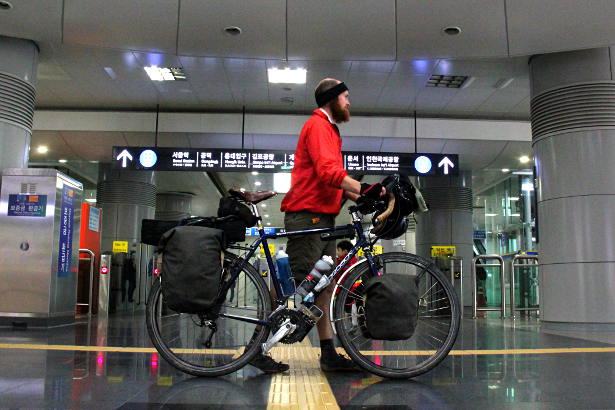 The directions to our host's house brought us to a bouquet of Ferrero Rocher and Chuppa Chups. What a welcome. I knew then that I was going to like South Korea.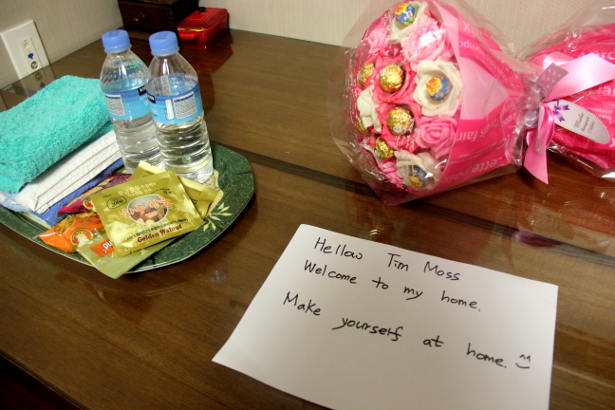 We had heard such good things about cycling in South Korea that we cut our losses in India and booked a flight somewhat out of our way to see for ourselves. We have not been disappointed.
At the start of their country-length cycle route, we arrived at a large terminal where we purchased a "passport" to get stamped at regular intervals along the route. Complete the route and you get a certificate. Complete the "Grand Slam" and you get a gold medal with your name on it.
It was a Saturday when we set off and the bike lanes were chock full with life: cycling teams in matching Lycra, families on an assortment of bikes, couples on hired tandems and others doing their shopping on two wheels. Every few kilometres there were parks filled with tents, public toilets piping classical music, cycle maps, public bike pumps, cyclist-only tunnels and convenience stores offering hot water for your noodles and coffee.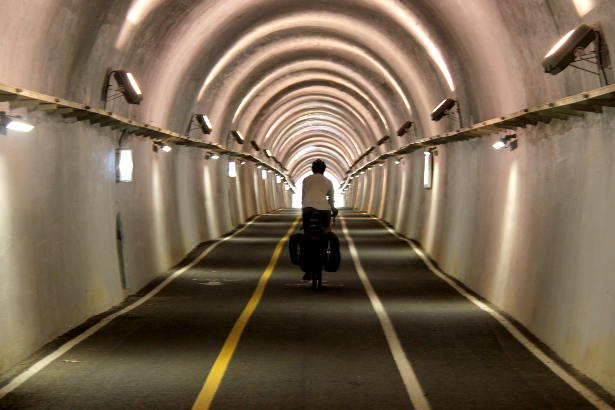 We stopped for the night outside one such shop and were confused to see all of the tents being slowly packed away as sunset approached, until there were none left on night's arrival. Apparently camping in Seoul is a day time affair. We asked a bike shop owner about sleeping there and he looked baffled. We understood the message – no camping – so did the best we could to conceal ourselves in bivi bags behind a bush. We fell asleep by the river, beneath a skyline of bright lights.  This was urban bivvying, Gangam Style.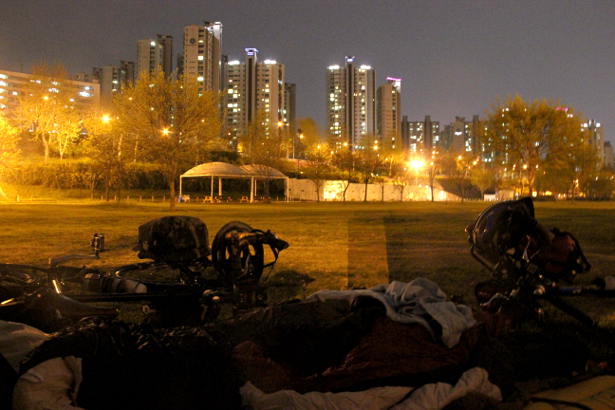 Besides a man arriving in the park at 4am to play golf against himself for an hour, we enjoyed a surprisingly good night's sleep for such an urban bivouac. Morning arrived and we followed the flow of bicycle traffic along the riverside out of Seoul, before finding the perfect bivi spot for the next night beneath a large sign which read: "No Camping".
It has been a long time since we have been able to wild camp with ease each night (sleeping rough in a capital city still constitutes "wild camping" in our book but most nights have been a little wilder since then) and it is bringing me a lot of joy. The kind of cycle touring where you can wake up bathed in sunlight, cook your breakfast sitting on a park bench, pedal unmolested through the day then set up camp somewhere quiet come nightfall is – I have come to realise – the kind of cycle touring I like.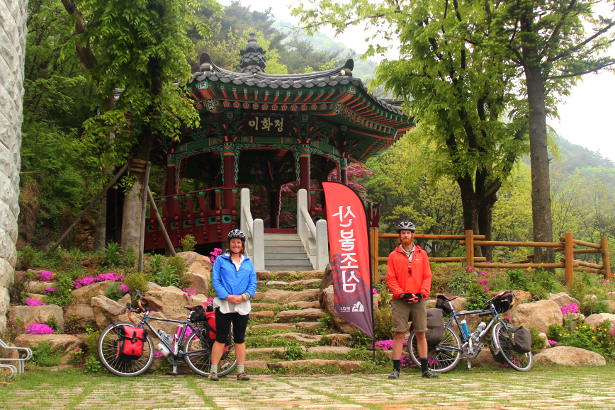 After a few days of the good life – following cycle lanes, stamping our passports at "Certification Centres", having three portions of noodles a day and surreptitiously filling our mugs with hot water from the giant urns in convenience stores – the need for a shower and clean clothes began to beckon. And we knew the perfect place for that…
We had been told about Korean "saunas". They are, we were told, a national institution and not to be missed.
On arrival we were greeted with enthusiasm, allowed to park our fully laden bicycles in a conference room then each issued with a prison uniform and three boiled eggs.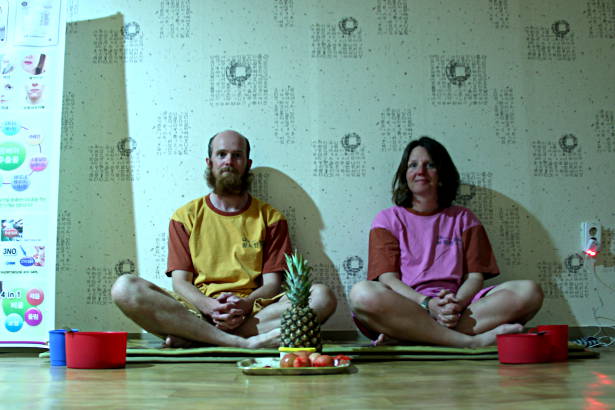 Shown downstairs, we were guided to gender-separated bathing rooms. Moments later I was stood naked in a large room, covered from head to toe in foaming soap with a huge grin on my face. I rinsed off and joined the other men in a large hot water bathing pool. I thought about the long winter months we had endured and, even though it was no longer winter and I hadn't been cold for weeks, my grin spread wider with the realisation that it could have been winter and I could have been cold, and one day, no doubt, a cyclist would come through here in winter and appreciate the luxury of a hot bath all the more.
Meanwhile, I later learned that next door, Laura's exposed body was being visually scrutinised by unabashed Koreans then scrubbed down thoroughly by an old woman.
Reunited, we ate noodles, hot chocolate and digestives for dinner (our standard) in a large room which resembled a gymnasium, complete with floor mats. Piling three such mats on top of each other, we laid down and drifted off to the sound of what appeared to be a televised game of Othello playing in the background.
Another stint on the bikes brought us to the town of Gumi and a welcome break in the company of an American host, English teacher and former cycle tourist. Next up we continue south along the river to Korea's second city, Busan, where we'll catch a boat to Japan.