2015 grant winners Jude and Ben are about to tackle the Caledonian Canal in an inflatable boat. Here, Jude shares her dislike of water and the cold but why life would be dull if we always lived within our comfort zones.
Jude and Ben's trip is one of ten expeditions sponsored by a Next Challenge Grant in 2015. That's money from me, other adventurers and 100 members of the public.
You can read about the other winners, apply with your own idea or make a donation to the 2016 grant here.
Paddling across Scotland: What's the worst that could happen?
by Judith Pope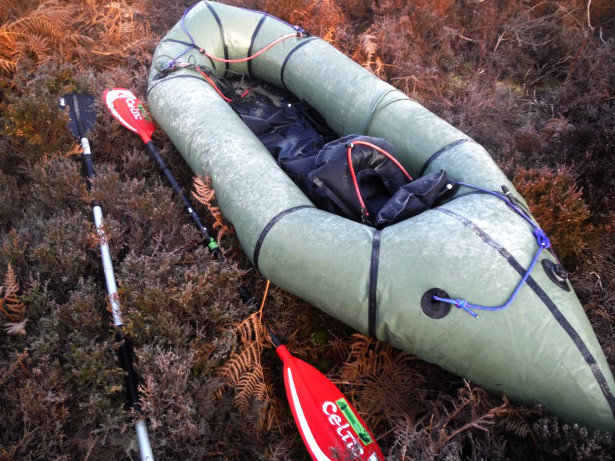 Ben has many ideas
Ben has many excellent ideas. This one involved paddling across Scotland on a bit of water he fancied when looking at a map one day. One week off work to paddling 60 miles of the Caledonian Canal from Fort William to Inverness, in an inflatable boat made for two. Excellent?
If you want to read more about Ben's point of view on all this head to his blog: Paddle Out. Otherwise, you've got me for now.
Yay?!
There are many reasons that make this perfect for me: I love the pace of being on the water under the power of my own arms and the scenery is reported to be amazing along the canal. The solitude that can be found away from people recharges me. There is an appeal in the personal challenge of letting go of trying to control every detail once the trip is underway and simply surrendering to weather, public transport systems and unknown meetings and adventures.
There were also so many reasons why this would be a non-starter for me: I have a cat-like approach to water, I don't like being cold, Ben said I could only take 20-40 litres of kit (just for reference: I took my 80 litre rucksack on a three day bivy trip, with no cooking kit), and I wasn't sure Ben was ready for the level of moaning I can do when cold, wet and without my comforts. To name a few.
But wouldn't it be a dull life if lived firmly within the comfort zone? Such an adventure I wouldn't attempt on my own – that would be too much right now. But with company, I intend to push my known world. Who knows where it could lead?
So, up for the challenge, I said yes.
Silencing the cat
There's no getting away from the fact that this is going to happen on water. My aversion to being wet and cold was just going to have to be faced. And that meant exposure.
I used to row in the summer at uni. Mostly it used to be in early morning sunshine, until the British weather realised what it had done and clouded over before most people woke up. I used to row with eight others, in an expensive fibre glass vessel that we lowered into the water. I've also done small amounts of canoeing and kayaking. However, this trip:
goes on stretches of water reported to have seen waves of 4 metres high. 4 metres. That'd tip us over (Wet)
doesn't rule out snow (Cold)
requires the packraft to be walked into the water (Wet and cold)
So a practice run to test out just how cold, just how wet, this was going to be was needed. The most troublesome sections are going to be the lochs: inland seas. So we headed to Poole Harbour for an overnight trip in March to see how we got on.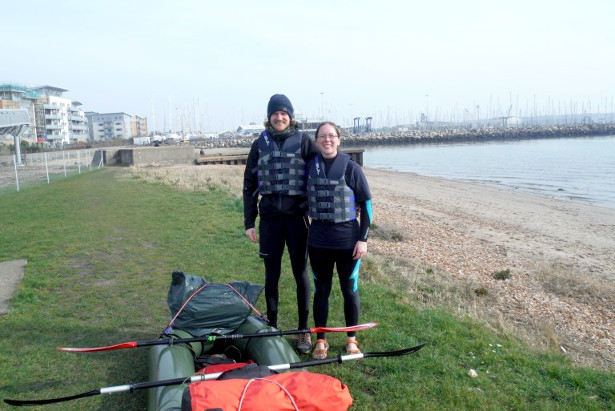 In order to stay warm and dry we set out on a three pronged attack (Ben seems to run hotter than me, so it was mainly driven by me):
1. Contingency plans:
If the weather or water conditions were to look particularly awful we'd pack up and walk/bus it (well, for the practice trip we'd phone for a lift). The joy of using such light kit. No point toughing it out – we want a great adventure, not a trip to a torture chamber. I've also asked that B&B back up could be used as a safety blanket. Hopefully an option we won't be forced to use.
2. Layers:
Whilst paddling, there is no way you'll get me out of my wetsuit (cue 26 degrees). I rejigged my camp layers for maximum warmth / minimum pack size, and finally gave my leaky down sleeping bag a true test. On the trip it froze overnight. I was cold overnight. I was awake a lot. Thank goodness for a test run.
Getting in and out of the water I'd planned for sandals, with socks in the boat. No chance. Once in, there was no space for such complex manoeuvres. Thankfully it was warm enough. I'm not trusting Scottish weather though and am putting some neoprene on my feet too. Everything else was spot on.
3. Food:
Making sure we'd got enough food, not only to fuel the paddling, but also to stay warm in the evenings and mornings was tested. I didn't know that Ben had packed choclate biscuits, until 5am. Half a packet later by 5:05am I was feeling like the day could begin. They are definitely on the list for the main trip!!
Ben was insisting on capsizing practice. I was not. Thankfully by the end of the trip we both agreed we were more likely to fall out before our inflatable tipped. And if it did tip when fully loaded out best bet was to swim to shore to flip it.
The kit was tested, in sunny weather with an overnight frost, almost no wind and flat, flat water. That'll have to do as a test. Tweaks to kit noted. Just hoping the weather is similarly kind to us at the end of April.
Kit reduction: 80 litres down to 40 litres
The packraft is tiny. The stated internal dimensions meant that the boat would have to be inflated round me to get my hips in. Thankfully someone somewhere can't measure – or we're measuring different things.
To say that there isn't any room to swing a cat would be true. There's barely room to swish a paddle! However, that is the packraft's beauty. No more room than is needed. And no generous luggage rack.
I happily carried my huge rucksack through many hiking trips. The size of my kit didn't really matter – it all fitted in – but weight-wise, although I could carry it, I think it would have been enough to sink the packraft (or at least give us some steering difficulties).
A different approach was needed. Reduce quantity, reduce volume, reduce weight where possible. Having done a few cycling and hiking trips I had already begun to review my kit. But here began the kit spreadsheet. I love a spreadsheet and this packing list has been where we noted stuff that worked, didn't and solutions. Some bits of kit were changed – I needed a warmer (but bigger) sleeping bag, two people under the tarp bivying didn't work so well and we've now tested and swapped in a tent. And Ben definitely needs to join me in having two pairs of shoes (one wet pair, one dry pair).
I'm quite impressed that I can now fit my kit into a 15 litre rucksack (doubles as a seat) and a 20 litre rucksack. Ben already is super efficient at packing and was easily packed in a 30 litre rucksack. That was the kit we took and tested, so we did ok on that front.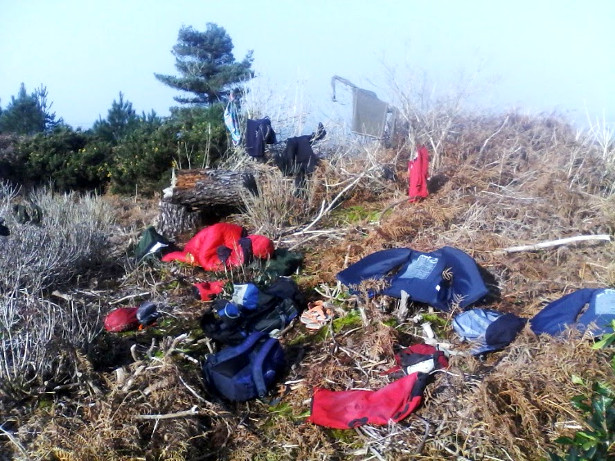 What's the worst that could happen?
I mean really?
Puncture sees packraft and all our kit sink to the bottom of the deepest body of water in Europe? Make sure wallet, phone and keys are attached to us, not boat, and swim/walk away.
Weather stops play? Wait a bit. Be prepared with list of pubs/acommodation/bus routes.
Canal authority does no recommend use of inflatables on the canal by inexperienced paddlers? Erm. OK, we did a practice session to refresh our skills. We can read the weather, we'll be fine. We've got two heads, we communicate well, we can make a judgement call.
We can't hack paddling for six days? Plan to take it slow. If all else fails follow the wet weather plan of heading to a pub to see if a refuel makes a difference and then rest, walk or jump on a bus if that doesn't work.
We encounter a crazy person on our trip, and then realise they are the other half of the crew? Bah, none of us is perfect.
With my rose-tinted spectacles, I'm picturing wide open calm waters framed with mountains, blue skies with birds soaring overhead, wild camping surrounded by a rainbow of colours as spring shows us what it's got. Leaving no trace as we explore new scenery, embracing the silence and solitude, relaxing into the world around us in a way that travellers in bygone eras may have done.
Excitement level is running high.
We'll update you in a couple of weeks with the reality of the trip.
The 2016 Next Challenge Grant is now open for applications and donations. Read more here.