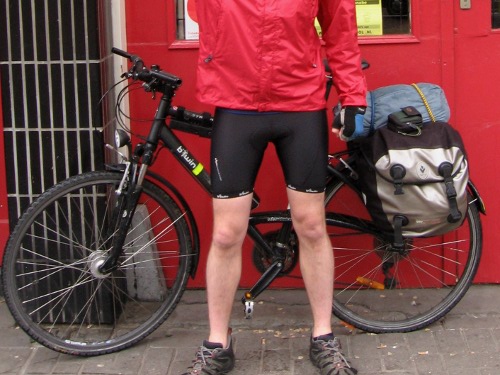 I like cycling and I like lycra but I appreciate that there are some situations in which it is not the most appropriate attire. The problem is, I don't always have time to change.
Here is a list of some odd places and situations in which I've recently found myself lycra-clad.
For easy visualisation (which I think is what you'll all be after) I've marked which were surreptitious (i.e. concealed under real clothes) and which were blatant (i.e. very little of me concealed at all).
In a meeting with a BBC Editor at White City (surreptitious)
Dinner date where I forgot to bring any trousers (blatant – though not too bad once my legs were under the table)
Three separate job interviews (both)
Pitching my rickshaw idea to Special Olympics GB (surreptitious – and I managed to change in the loos halfway through)
All night long whilst freezing my ass off in Norway
Discussing big plans over tea with Sarah Outen (surreptitious)
At a Saturday evening carvery, splattered in mud fresh from the trail (blatant)
All day at work on the more than one occasion that I forgot a change of underwear (surreptitious)
Anyone else get caught out in the shiny stuff?