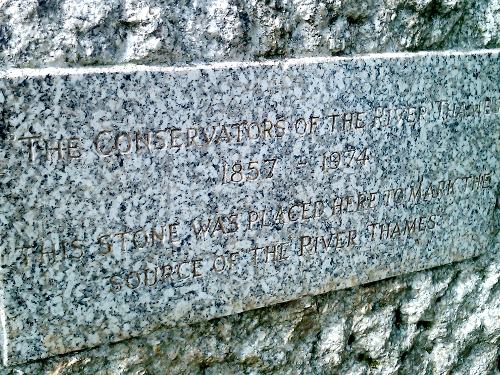 We looked down from the bridge and were surprised at just how shallow it was. With a shrug, we started running in the opposite direction.
Our Thames swim started ankle deep in Cricklade a month or so back but the source of the Thames is actually some way further west. It's too shallow to realistically swim the first few miles of the river so we had returned to Cricklade where we started our swim to run those miles instead. My arm was in a plaster cast so it was a good time to do the running whilst swimming was out of the question.
In contrast to our last running project, the London Underground, we were treated to infinitely more greenery and the quiet trails made a nice contrast to the capital's populated streets. We still spent a lot of time standing still though, turning our heads and wondering where we'd gone wrong. The only difference being that this time we had no map.
Such a short exposure whilst high on endorphins could never be considered thorough research but running through its fields and over its hills, it was hard not to fall in love with the English countryside and wonder why we weren't living there.
Crossing one such field towards the end of our run, we could see in the distance the stone tablet that marked the source of Thames. Two middle-aged men walked towards us with matching charity t-shirts stretched over bulging bellies.
"Have you just finished the path?", I asked, referring to the 180-mile Thames Path that stretches from the far side of London.
Yes. They had. It had taken them 15 days. Or 10, or 20. I don't really remember. But I do remember seeing them in the pub around the corner a little later with a beer in hand and a bus load of friends and family surrounding them. They had been raising for a local hospice and this had clearly been a big project for them. I felt lucky to have been there for their finale.
We reached the source. We posed for a photograph. We walked back to the train station.
14 miles' running, added to our current tally of about 10 miles' swimming still leaves us with a lot of river before we finish our own project but at least we now have a proper starting point: the source.
I am swimming the length of the Thames with my girlfriend Laura as part of our Greater London Triathlon.
Today: Running ~14 miles between the source and Cricklade. We've swum 9.7 miles to Lechlade so far.
I recently broke my wrist falling off my bike, hence the running, but hope I'll be returning to swimming soon