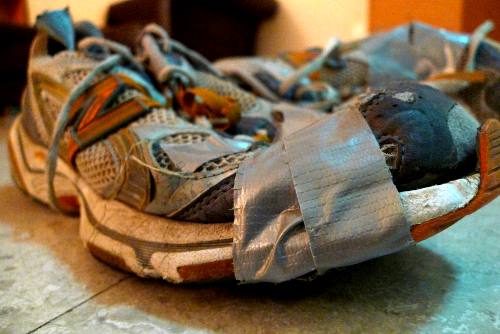 The above image depicts my recently retired running shoes.
I had been using them regularly since the summer of 2007. They were kindly donated by Decathlon Surrey Quays for my "real world" triathlon from London to the Isle of Wight and, after almost four years of use and abuse, they finally came to an end during an indoor football match.
I manage to finish the game by tying them up with the cord from a team-mate's security pass and was subsequently able to squeeze out a few more runs with the aid of duct tape but sadly recognised that they were not worth flying back from Oman with me.
In tribute to these fine shoes, below are a few experiences which they have shared with me.
Where have your favourite pair of shoes taken you? Add your comments below.
And no doubt many other experiences that will bring a smile to my face next time they pop into my head.
Now where have you gone in your shoes?