In his application for The Next Challenge Grant, German student Hajo Spathe wrote:
I have never seen a more beautiful place than the Canadian Rockies! Turquoise lakes like emeralds and the Icefield Parkway Highway is just breathtaking."
His idea was to undertake an IronMan-style triathlon in this beautiful land he had discovered.
His Canadian 'RockieMountainsIronman' plan included:
Swimming through Lake Louise.
Cycling the Icefields Parkway: a 232km stretch of highway that runs parallel to the Continental Divide.
Running the Skyline Trail: a ~44km high-level backpacking trail in the Canadian Rockies.
But as so often happens with adventures, things didn't quite go according to plan…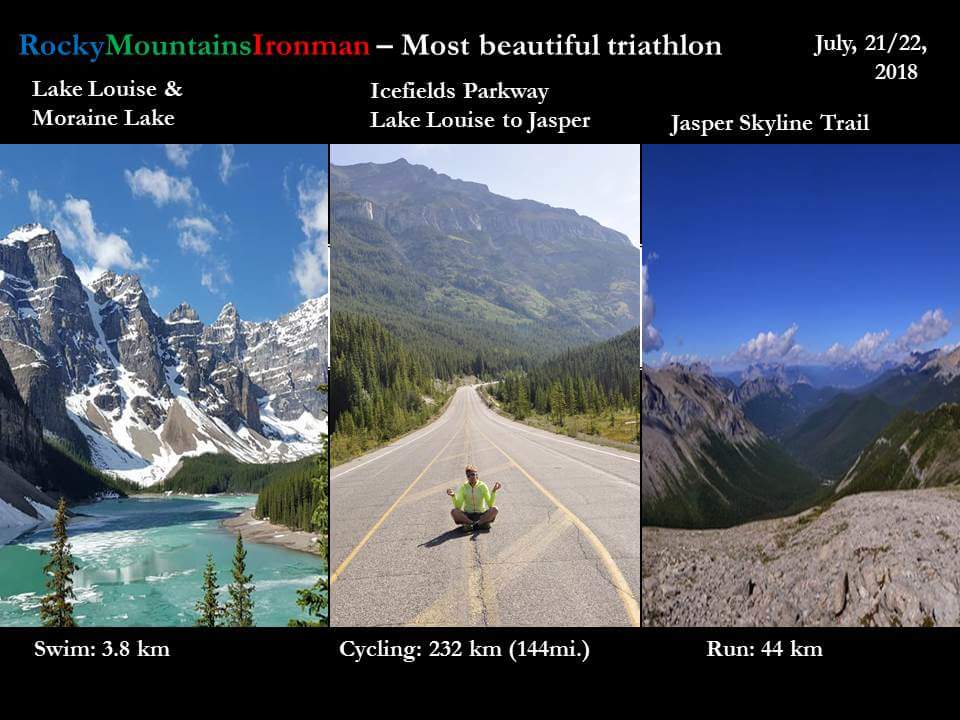 ---
The Next Challenge Grant
Hajo's trip was supported by The Next Challenge Grant, an annual bursary for aspiring adventurers.
It's funded by me – Tim Moss – several other adventurers and crowdfunded public donations.
Since 2015 it has supported 50 different expeditions with awards from £50 to £800.
---
Canadian Rocky Mountains 'IronMan'
by Hajo Späthe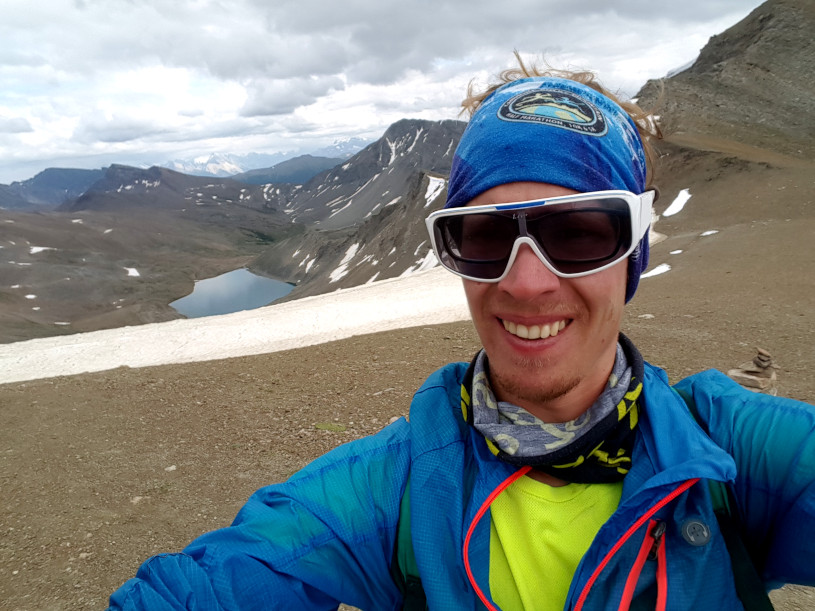 The idea
The idea to do the Ironman stuck in my head after I saw the turquoise lakes in Banff National Park the first time. I had just driven the 232km 'Icefield Parkway' from Lake Louise to Jasper as part of a road trip with my dad, and recently heard about the 46km 'Skyline Trail'.
Before starting this challenge, I first wanted and had to finish my master's studies, so the last month of preparation and training didn't really exist. Instead of training, I was sitting each day for 10 or more hours in front of my computer and trying to finish my thesis, but the challenge idea was a really good motivation and pushed me through this other kind of challenge.
Training
I tried to get in form with a training camp around the Canmore area two weeks before my RockyMountainsIronman, which is not really smart from a training perspective, but I was not really looking for a fast time and was more focused on the experience and enjoying my free time in Canmore.
After writing my last sentences for my thesis, I went directly to the 'Sinister 7' ultramarathon to support three friends on their first hundred miler. After supporting them the first 100 km, I couldn't resist any longer and ran Leg 6 of the event, 32 km, in the sunrise on the mountain ridge. I was so motivated and, compared to the 100 miler, 32km seemed so easy, short, and fast, that I not felt tired at all, and that turned me positive for the upcoming days and was a good training sign.
After the Sinister 7, I went finally back to Canmore to have some more training fun, part of that was a 70km run to Mount Assiniboine with two friends, which was already the perfect day, I was looking for: some bike rides, scrambling and a cave tour rounded the two weeks up. The weather had been sunny and just nice all the time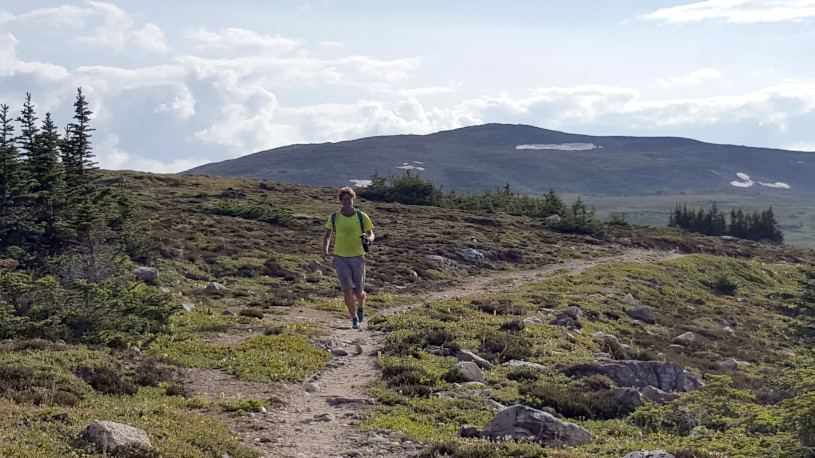 The luck runs out
Unfortunately, all the luck I had the weeks before didn't last for my perfect weekend and left me the days before. First, my supporter told me two days before he wouldn't make it anymore because he had to work. Another friend I had in mind couldn't make either.
So, instead of being driven up to Lake Louise, I had to try hitchhiking from Canmore to another friend's house in Field. After 5 hours standing in the sun without catching a lift, I decided to cycle and try to catch a lift on the road.
I ended up riding all the 112km with a 15kg backpack. I arrived at my friend's house around 10pm, pretty tired and fell straight asleep. It was basically the opposite of my recovery plan, so without support, already feeling pretty exhausted, and 25 km away from Lake Louise, I decided to change my plans. Instead of swimming the lake, I crossed it on a stand-up paddleboard.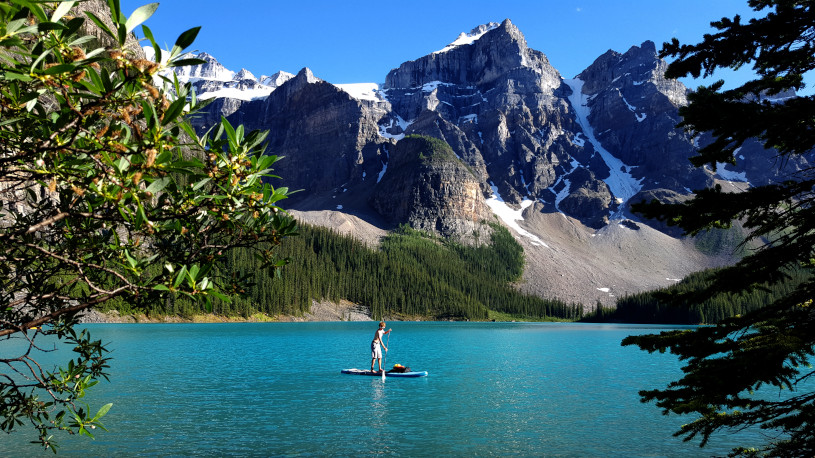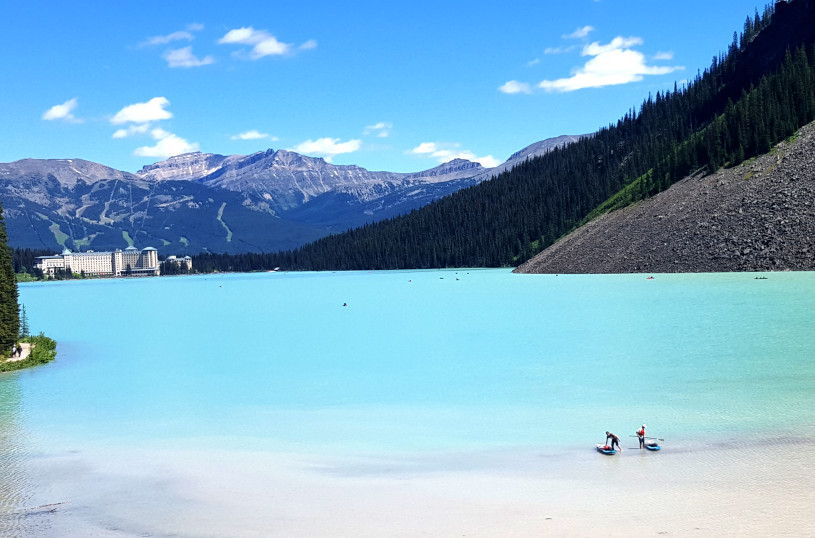 A cold ride
Anyways, the next phase my adventure started on Saturday at 6am with a 25km warm-up bike ride from Field to Lake Louise, just to see a thunderstorm warning for Jasper. It was cold (~13 degrees), but there was no way back. I had to be in Jasper on Sunday to run the Skyline Trail as part of an event (which would be more fun than running it alone) so my dates were set.
The ride was cold and I was pretty slow, taking a lot of pictures, but even so, it is just an amazing highway and I encourage everyone to ride it if you can. After 78km, I took a break and ate some chili con carne to warm up at the junction to the Rocky Mountain House.
Another target point was the 100 km mark directly at the Columbia Icefield. After that point it started to rain and didn't stop. I just had my shorts and not the best rain jacket. So, after ~3 hours cycling in cold, icy rain (4-8 °C), it was getting darker, I was totally exhausted and cold cramps started. I was still over 60 km away from Jasper.
In a reflex reaction, I put out my hitchhike thumb when the next car passed me and it stopped immediately. I guess, I looked pretty poor, lost and helpless. It was a family on the way back to their campground. We put my bike in back of their truck and…. it wouldn't start.
After 30 min, I was just sitting freezing, not really helpful and feeling sorry, in the back. After half an hour the dad managed to fix the problem partly, so we could drive slowly in manual mode.
At the campground, they invited me to stay, havea hot chocolate and warm up, but after some time, I felt better and thought it might be better to keep cycling to a hostel 30km away. The family was worried though. It was dark and a black bear was seen on the campground minutes before. However, around 10.30pm I felt better and was on the road again. I got to the Athabasca Falls hostel, just 30 km away from Jasper.

The Skyline trail
I got the last bed, dried my clothes and tried to charge my phone but it didn't charge anymore – 30% left. I was exhausted and went to bed for 4.5 hours before waking up at 5 am to make it to the Skyline trailhead in time to meet my friends. It was still cold and rained a little bit.
At 5.30am I was on the road again for the next 2.5 hours. I made it to the Skyline trailhead at Maligne Canyon, just in time. But at that point I had already decided not to run: rain and total exhaustion on the trail would be too risky and would also destroy the experience and fun for other people, which was actually my main concern.
One of the runners, I had never met him before, offered me his car with a bike rack so that I could drive it to the finish point. After the group left, I started the car just to realize, that I was not able to drive a car in my current condition. I pulled out and slept for the next two hours. The other guys ran the trail without me, but I joined them luckily for a last great BBQ fest, which was great and fun. The weather didn't turn better for the next day. I sneaked in at a friend's room, got sick and slept more or less for the next two days and tried to repair my phone. At some point it just charged again, and I was really happy.
The Skyline trail – take two
On Tuesday, I felt better, and the weather was better too. I decided to do the trail the other way around – from the Lake Maligne to the Canyon – just to have a short way back to Jasper after finishing the run.
On the bike ride to the Canyon, I got a flat tire – bad signs again. Luckily, after repairing it and locking my bike, I got a hitchhike by a guy who had just finished hiking the trail for the last 4 days.
I started the trail around noon. It was just beautiful and I ran on fantastic trails and just fully enjoyed it. Somehow, I was not exhausted and it was probably the easiest part of the full project. I met some really nice people and took it really easy.
The last downhill stretch, I ran in 4.30 min/km without any problems, which shows how good my legs were. Back at the parking lot and my bicycle, I got surprised by a big elk. There were also some people trying to hitchhike out at 9 pm. Sometimes I think, I'm still planning a lot in comparison to other people.
I cycled back and was really happy with my accomplishment, stopped at the grocery store and bought a pizza and some cookies and a coke. I always have twenty emergency dollars in my phone case and when I was paying my phone felt out of the case and dropped down and was dead from one to the other moment – at least the screen and all the pictures and Strava records have been gone with this one second drop – ?.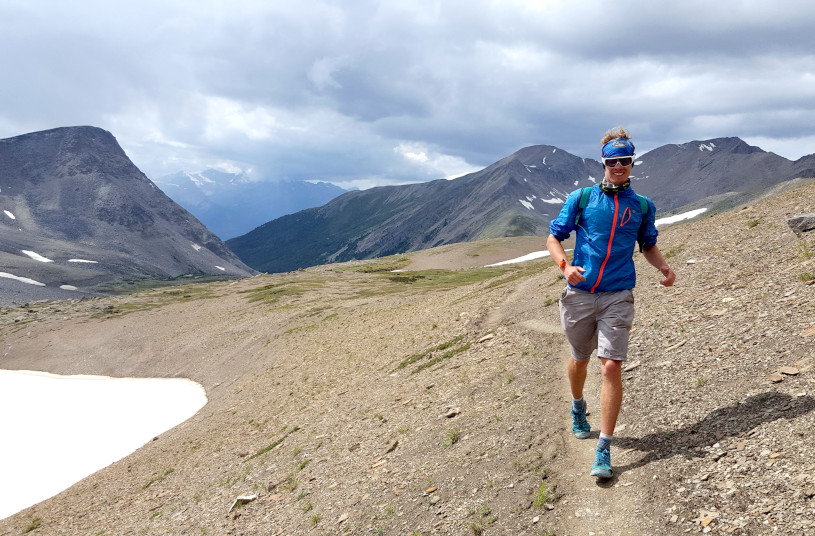 Riding home
Sleeping and going back to Field was the plan for the next day. I started at 8 am and the plan was to ride and get a hitchhike on the way. On the way, I got the idea that to really finish the Icefield Parkway, I had to cycle the 20 km part that I didn't ride on the way up because I got my cold night hitchhike.
I actually ended up riding all the way (100 km) to the Columbia Icefield without catching a hitchhike but the weather was nice and I probably didn't look as helpless this time.
Just 1 km before the Columbia Glaciers I got another flat tire on a new tube. I had no other good tube left, so I tried to hitchhike seriously again. I didn't want to sleep at the highest and coldest point of the Icefield Parkway.
It worked! An older couple, driving all the way from Ontario to Vancouver to visit their son, picked me up after a short time and somehow, we managed to put my bike in their really full car. Driving, the HW flew just by. It's amazing how fast it goes when you're going by car. They even did a 50 km detour to Field to drop me off at my friend's place. Challenge survived!

Adventures and memories
Different than planned but with more challenges, problems, adventures and memories than I could ask for.
Normally, I thought, I could do the swim later, but I got sick again with fewer for the next two days and then it was time to leave to Vancouver, so I never swam in the lake after carrying my wetsuit all the time with me. After 3 weeks, I was finally able to get my my phone repaired and recover all pictures and strava records.
It was a good challenge, and a memorable weekend that I will never forget.
Strictly speaking, however, I haven't really succeeded in completing my Ironman, so the challenge is still open for other people. I believe it is the most beautiful "Ironman" route and one of the most challenging. So, if someone is up for it, please let me know ?.
Thanks again Tim and donors for your support, the idea and the believing in my challenge. I think, it's important that people believe in you and your adventures and to share your experiences. This challenge was a great one and it's made me look for the next. I'm thankful for all the people I met during it and who really helped me out – Thank you!
Expenses in Canadian Dollars:
Food (not really an idea but around 50$ over the days)
Chili Con Carne (8$)
HI Hostel night (32$)
National park fee (10$)
Phone repair (268$)
Except the phone costs, I think my adventure was reasonable and I tried to minimize the costs as far as I could.
Strava records
Canmore to Field:

Warm up Field to Lake Louise:

Icefield Parkway until I got picked up:

Last 30 km to Jasper: missing
Run Skyline Trail:

Way back (not sure how that worked but it seemed that my phone was still on and recording all the time and just died before I got my other hitchhike – amazing strava)

---
The Next Challenge Grant
Hajo received a £50 award from The Next Challenge Grant (the full amount he requested).
The money came from me, other adventurers and members of the public.
Do you have an adventure idea that you need help with?
---