Christmas is coming and it's time to drain the bank account in pursuit of the annual present binge. If you have an adventurer type in your life, we have compiled a list of niche kit that we love – or would love to have – to help give you a bit of inspiration.
If you're going to buy anything off this list, we would be very grateful if you used the actual links below. They're affiliate links. They cost you nothing but mean we get a tiny percentage of each sale, which helps cover the costs of running this website and will start funding an expedition grant next year.
Thank you and seasons greetings to you all.
P.S. For more ideas try our Wild Swimming Reading List and Adventure Cyclists' Reading List, as well as Tim's Equipment Comparison articles. Of course, you might also like a signed copy of Tim's book: How to Get to the North Pole (and other iconic adventures).
Top of the Range
for people you really like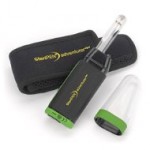 If you're travelling in the sorts of places where the water is a bit dodgy, a Steripen is a convenient way of making sure it's safe to drink, using ultraviolet technology.
Unlike using chlorine or iodine tablets, it doesn't affect the taste of the water and not buying bottled water helps the environment by saving on plastic waste. We've used ours all over the world and can highly recommend them.

If you're a cyclist and don't already have one of these beauties, get one.
We've cycled 20,000km on ours in the last few months – with no need for padded shorts – and they're brilliant. They also look super stylish, if you care about that sort of thing.

Swimming is the latest craze for adventurers wanting to prove themselves, but it can get boring lying face down in the water for hours on end. Relieve the tedium with a waterproof MP3 player.
(And if they like swimming then they may like one of these books…)

Widely regarded as the expedition hammock, we've been hankering after one (or two) of these for years.
You can get simpler, cheaper ones but these come with a mosquito net and built in tarpaulin for rain protection. They also have a clever diagonal sleeping design which means you can lie flat rather than banana-shaped whilst you smugly survey your surroundings.

These are everywhere at the moment: small cameras, the size of a tennis ball, which come with a range of attachments for fixing to bikes, helmets, surfboards and more.
We were given one as a very thoughtful wedding gift and it's perfect for filming adventures without needing any special skills.
Mid Range
for people you like a bit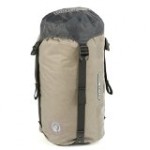 Most adventurers we know love a decent dry bag. Take it to the next level with this compression bag: it helps squish your sleeping bag to a fraction of the usual size.
Tim's written a full explanation of these bags and a review here.

These folding knives are the best we've found for outdoors use. They are tiny, don't cost much and stay sharp for ages.
Much better than our blunt pen knife and saves the other tools from getting covered in cheese.

We are surprised how much we've used this folding bowl on our cycling trip around the world. We use it for washing dishes, clothes, our bikes and ourselves at least once a day.
Highly recommended for the camping cycle tourist.

These rucksacks come in an integrated stuff sack which is about the size of a golf ball and weigh an absurd 68 grams.
We keep ours in our handlebar bags, ready for supermarket shopping. They are remarkably tough (they've survived 16 months on the road with us) and can take a surprising amount of weight. Great for any traveller.

If you cycle in winter, you'll know the pain of cold feet. These socks are pretty amazing at stopping the wind and rain from getting in.
We used them in temperatures of -15°C and can highly recommend them for cold weather cyclists.
Budget
for people you may or may not like, but are obliged to buy for


This isn't rocket science: just two pieces of metal which you strike together to create a spark that lights the stove.
It means you don't need to bother with matches or lighters, and it doesn't matter if it gets wet. They say they last for 10,000 strikes and, after over a year on the road, ours is still going strong.

Plastic sporks are hardly robust and we've probably snapped a dozen on this trip, usually trying to get peanut butter out of a jar.
Upgrade to a titanium one: they still weigh virtually nothing and will last you a lot longer than their plastic cousins.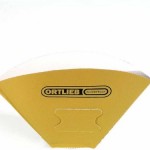 It might just be a piece of silicon shaped like a funnel, but it makes a pretty decent cup of coffee.
Unlike other campsite coffee makers, it folds flat so takes up virtually no space and weighs next to nothing. If you need coffee to get you going, this one is a great option.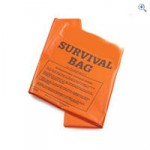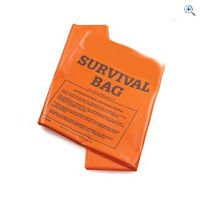 These are old school bags made of tough plastic, recommended to carry for emergency use. We would also recommend them as an ultra-budget bivvy bag. They might be a bit sweaty but they'll keep the worst of the weather out. Alternatively, they make pretty good sledging bags.
For more (luxurious/expensive) bivy bag ideas, see Tim's popular Comparison of Bivy Bags article.

These tablets are for adding to water so you can replace electrolytes lost through sweating. They taste pretty good too.
We reckon anyone into exercise would be grateful to receive these as a gift.