This article gives a detailed review of all the best and most common bivvy/bivi bags available.
It contains a a buyer's guide, recommendations of the best bivvy bags and comparison tables with details of every single bivvy bag available in the UK.
Jump to: Ultimate Comparison Tables | Best Bivy Bags | Full Bivy Bag Reviews
BEST BIVVY BAG 2021

In a hurry? I reckon these are the best bivvy bags in 2021. For details and more options, scroll down.
---
Best budget bivi: Alpkit Hunka
If you're in any doubt about what bivvy bag to get, then look no further than the the Alpkit Hunka. It's waterproof and breathable, not too flimsy but not too heavy either, and at £50, it's reasonably priced.
---
Best luxury bivi: Rab Ridge Raider
For 15 years I have been recommending the Terra Nova Jupiter as the best bivvy bag that money can but it's no longer made.
It's closest rival then is the Rab Ridge Raider. A cavernous hooped bag made with triple layer waterproof eVent. At a cool £300 RRP, it is not cheap, but it is good.
Rab Ridge Raider
from £289
---
Lightest/cheapest hooped bivi: Outdoor Research Helium Bivy
The Outdoor Research Helium is a really good bivvy bag.
At only 510 grams (18oz), this is the lightest hooped bivvy bag by a long stretch. It also happens to be much cheaper than most others. It is less than half the price of the Terra Nova Jupiter.
I've been using one for a couple of years now and reckon it's excellent. It is not as sturdy as the heavier Terra Nova Jupiter so will no doubt be more susceptible to wear and tear. But, all in all, it is a really good bag for the price, especially given how light it is.
(N.B. Alpkit have recently released a hooped bivvy that is much cheaper than the Helium. Watch this space for a review of the Alpkit Elan).
OR Helium Bivvy
from £135
---
Best back-up bivi: Rab Survival Zone
The Survival Zone is super lightweight and, if you're not worried about waterproofing, you can get the even lighter Survival Zone Lite.
The next best thing would probably just be an orange survival bag.
Rab Survival Zone bivvy
from £92
---
BIVVY BAG BUYER'S GUIDE

This should help inform your purchase so you know what to look for in a good bivi.
Waterproofness
Waterproofing is measured with a rating called hydrostatic head (HH). 10,000 or more means you'll stay dry in all but the worst weather. Lower than that and it will probably start to seep through in heavy weather and puddles. I have a bag with a rating of 1,000 which is fine for spills and brief showers but lets water through in anything more.
Any bivvy bag made with Goretex or eVent will be waterproof.
Breathability
Breathability is the extent to which the fabric will allow water vapour to escape. It is particularly important in bivvy bags because, unlike tents, any condensation that forms inside them will instantly make you and your sleeping bag feel damp.
If the bivvy bag you are interested in uses Goretex, eVent or Pertex then its breathability will be fine. Don't give it another thought.
If it is not made with one of those branded fabrics, then look at its MVTR: moisture vapour transmission rate. That is a measure of its breathability. 10,000 or more is fine. Goretex and eVent should be 25,000+. Less than 10,000 becomes damp and sweaty.
If a bivi bag is cheap then it is very likely that it will either be not very waterproof or not very breathable. A bit of reading between the lines will usually tell you which.
Hooped or not hooped
Basic bivvy bags are just large, waterproof bags. They are cheap, lightweight and instant to pitch but can be miserable in wet weather.
Hooped bivvy bags are like tiny tents. They are more expensive and take a couple of minutes to pitch but they are much better in the rain.
Entry and exit
Non-hooped bags may have velcro, zips or draw-cords at the top closure where you get into and out of the bag. This is a matter of preference though I would probably opt for the simplicity of drawcords.
Spaciousness
Larger bivi bags (like ex-army bivvies or the Alpkit Hunka XL) have enough space to fit your rucksack and boots inside.
On the other hand, some ultra-lightweight bivvy bags (like the Rab Survival Zone Lite) might not even an inflatable camping mat.
The tables below do not show internal measurements but you can see them in my source spreadsheet.
Packed size/weight
Bivvy bags are generally fairly lightweight. The lightest one weighs just 200g.
However, some of the fancier hooped bivvies can weigh over a kilogram and ex-army bags are often 800g. Given that you can get one-person tents that weigh less than a kilo these days, it is worth paying some attention to the weight.
Weights of all bags are displayed in the tables below.
Cost
Prices range about £30 for a budget ex-army bag to a whopping great £350 for the luxurious Terra Nova Saturn. If price is an issue, you can always just get an orange survival bag for £4 and make do with that.
---
COMPARISON TABLES
The Ultimate Bivvy Bag Comparison Tables

If you think I'm missing any key bivvies or would like one added then just let me know in the comments section below.
Scroll down for a proper review of each bag.
a. Basic Bivvy Bags
| Model | Net | Weight | Ounces | Fabric | Waterproof* | Notes | Cost |
| --- | --- | --- | --- | --- | --- | --- | --- |
| Orange Survival Bag | No | 290g | 10oz | Plastic | 30,000 | Not breathable and no closure but cheap and waterproof. | £4 |
| Vaude Biwak I | No | 300g | 11oz | Coated nylon | 3,000 | Cheap, light but not very waterproof. | £25 |
| Ex-Army Bivvy Bag | No | 800g | 28oz | Goretex | 20,000 | Specs vary. Very good budget bivvy. Find on Amazon or Ebay. | £25 |
| Vaude Biwak II | No | 600g | 21oz | Coated nylon | 3,000 | Double (two-person) bivi! | £35 |
| Alpkit Hunka Bivvy | No | 376g | 13oz | Coated nylon | 10,000 | Excellent. Price has gone up a lot but still the safest budget option. | £50 |
| Highlander Hawk Bivi | Yes | 921g | 18oz | Coated nylon | 4,000 | Wire-supported mosquito net to cover face. | £54 |
| Alpkit Hunka XL Bivvy | No | 503g | 18oz | Coated nylon | 10,000 | Extra large version of Hunka. | £65 |
| Rab Survival Zone Bivy | No | 320g | 11oz | Pertex Shield | 1,000 | Lightest waterproof/breathable bivi. | £92 |
| Terra Nova Survival Bivi | No | 340g | 12oz | Coated nylon | 10,000 | Too narrow for full length mat inside | £100 |
| Rab Storm Bivy | No | 664g | 23oz | Hyperlite Storm | 3,000 | Good quality bivy but army and Alpkit are cheaper. | £110 |
| Alpkit Kloke | No | 254g | 9oz | Coated nylon | 20,000 | Not tested. | £129 |
| Rab Survival Zone LITE Bivy | No | 200g | 7oz | Pertex Endurance | 10,000 | Very light but not waterproof. | £134 |
| Terra Nova Discovery LITE | No | 300g | 11oz | Goretex Paclite | 20,000 | Lightest full length zip bivy. Very short and no longer made. | £169 |
| Terra Nova Moonlite Bag Cover | Yes | 210g | 7oz | TN Moonlite | 15,000 | Too narrow for full length mat inside | £170 |
| Rab Alpine Bivy | No | 495g | 17oz | eVent | 20,000 | Good quality bivy but Alpkit Hunka is so much cheaper. | £195 |
| Terra Nova Discovery Bivy (discontinued) | No | 530g | 19oz | Goretex FLO2 | 20,000 | Very expensive for a hoopless bivy. Discontinued. | |
| Karrimor (X Lite) Bivi Bag (discontinued) | No | 289g | 9oz | Coated nylon | 10,000 | Discontinued. | |
'Net' refers to whether or not the bag has an integral mesh mosquito net.
To sort table by weight, use the 'Ounces' column. It works better.
For more details including pack size and internal dimensions, view the source data in Google Sheets
b. Hooped Bivvy Bags
| Model | Poles | Weight | Ounces | Fabric | Waterproof* | Notes | Cost |
| --- | --- | --- | --- | --- | --- | --- | --- |
| Trekmates Storm | 1 | 900g | 32oz | Polyester | 5,000 | Not tested. Trekmates contacted for a review. | £85 |
| Alpkit Elan | 2 | 900g | 32oz | Nylon | 10,000 | Not tested. Alpkit contacted for a review. | £100 |
| Snugpak Stratosphere | 2 | 1.1kg | 39oz | Nylon | 8,000 | Cheap but not waterproof. | £149 |
| Black Diamond Spotlight Bivy | 1 | 660g | 23oz | NanoShield | | Not tested. Black Diamond's distributors contacted for a review. | £175 |
| Outdoor Research Helium Bivy | 1 | 510g | 18oz | Pertex Shield+ 2.5L | 20,000 | Lightest hooped bivvy. Full review here | £199 |
| Terra Nova Jupiter Lite | 1 | 770g | 27oz | TN Moonlite | 10,000 | New Jupiter. Not waterproof. Better/cheaper bags available. | £230 |
| Rab Ridge Raider | 1 | 1kg | 35oz | eVent | 20,000 | Similar to Jupiter but bigger hoop/door | £280 |
| Outdoor Research Alpine Bivy | 1 | 907g | 32oz | Goretex Respiration Positive | 20,000 | New, extra breathable Goretex material. | £275 |
| Outdoor Research Interstellar | 1 | 546g | 19oz | Ascentshell 3L | 15,000 | Side entry for easy entry/exit. Can poke arms out and wear like a sombrero (!) | £290 |
| Aqua Quest Hoopla (discontinued) | 1 | 1.1kg | 39oz | Nylon | 10,000 | Discontinued. But sweaty and not recommended. Go hoopless or Snugpak. | £99 |
| Terra Nova Jupiter (discontinued) | 1 | 1.1kg | 30oz | Gore-Tex | 20,000 | Original Jupiter. Excellent but no longer available. | £279 |
*Waterproof rating is the 'hydrostatic head' of the fabric. 10,000 is fully waterproof.
All hooped bivvies have mosquito nets.
To sort table by weight, use the 'Ounces' column. It works better.
For more details including pack size and internal dimensions, view the source data in Google Sheets
---
REVIEWS
a. Basic bivvy bags

Your basic non-hooped bivvy bag is just a big waterproof sack that you get inside. Their beauty is their simplicity: no poles, no pitching and, usually, no zips. Their biggest downside is that they're a pain in the rain: the best you can do is to flap a hood over your face and breathe Goretex until it passes. Here is an overview of the most common types of bivvy sack and the best:
>> Tested by the author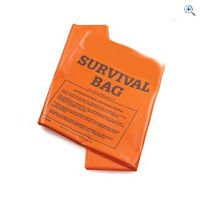 Available for less than £5, the orange emergency survival bag is lightweight, 100% waterproof and a viable option in some circumstances (e.g.  if it's breezy and/or you don't really expect much rain).
The problem, of course, is that it is 100% *not* breathable so all the moisture and sweat from your body gets stuck inside the bag, runs down the sides and pools at the bottom. Not very pleasant. It also has no fastening at the top, just a huge hole. The best option is usually to sleep on top of it until it rains or you anticipate a heavy dew. Sleeping somewhere breezy and keeping the bag open will help circulate air, and lying downhill may help drain the moisture.
Summary: cheap enough that there's no excuse not to bivouac but only a long-term option for the hardiest.
–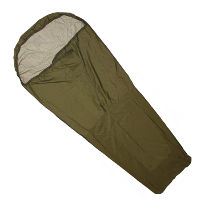 >> Used and recommended by the author
From here onwards, with one exception, you start getting quality bags and just need to choose your features and budget. British Army bivvies are the bench mark for bivi bags. They're usually found on Amazon, Ebay or similar (try army, ex-army, british army, army surplus etc). They are big enough to fit your rucksack inside, tough enough to sleep on stones without tearing, waterproof enough for heavy rain and breathable enough to be comfortable.
All in all, they are excellent. The downsides are that they are surprisingly big and heavy (you can get one-man tents that weigh less) and, being non-hooped, just leave you to flap the Goretex hood over your face during the rain.
(N.B. "Ex-army" these days may not mean it's ever actually been used by the army, which is fine, but just watch out for cheap imitations that are not Goretex. These will be more like the previous Hi-Gear-type bivvies described above).
Summary: big, tough, waterproof, breathable and cheap. An excellent bag. Quite big and heavy though and no hoop for the rain.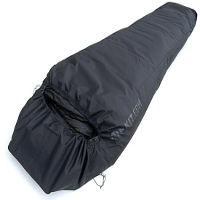 >> Used and recommended by the author
The biggest branded rival to the ex-army bags is the Alpkit Hunka which has been around for years.
This is the safest bet for a non-hooped bivvy bag: they are well made, waterproof, breathable and reasonably priced.
Summary: excellent, basic bivvy bag. Hard to beat.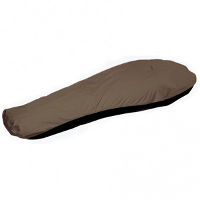 These two bags look broadly the same except for the fabric. The Storm is made from Rab's own-brand fabric (thus cheaper) and the Alpine uses eVent (thus is twice the price).
eVent is the main rival to Goretex. Its key selling point is superior breathability. I have not used these Rab bags myself (I've used their other bags) but I suspect they are very similar to the Alpkit Hunka but more breathable, particularly the Alpine Bivy, and probably better quality i.e. will last longer.
Summary: good quality bivvies, more breathable than Alpkit's Hunka but more expensive.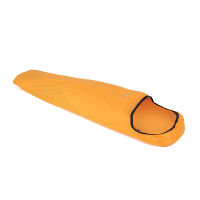 >> Used and recommended by the author (full review here)
Rab's Survival Zone bags are sometimes described as "sleeping bag covers" rather than bivi bags. They are very thin and are quite a tight fit around camping mat and sleeping bag. However, they are extremely lightweight and pack down very small.
The regular Survival Zone's Pertex Shield is waterproof in all but the heaviest showers (hydrostatic head of 10,000), the Survival Zone Lite's is not waterproof (it uses Pertex Endurance with an HH of 1,000).
I would recommend them for protecting a sleeping bag from dew, spills and other damage; for Alpine climbing where you'll sleep on snow and want wind protection but are not worried about rain; for ultra-running or other activities where every gram counts; in addition to a tent for extra warmth in winter or so you can bivvy outside when the weather looks good.
(My wife and I used two Survival Zone Lites for 16 months' cycling around the world. In winter we used them for warmth, year-round when camping to protect our inflatable mats and in summer to bivi outside. Read my full review here).
Summary: light enough to carry in addition to a tent and excellent for Alpine climbing or ultra-running.  However, the Survival Zone Lite is not waterproof.
---
b. Hooped Bivi Bags

The luxury option for bivouacers is the hooped bivi: these bags have one or more poles, like a tiny tent. That means you can zip yourself inside when it rains and still sleep comfortably. They also allow better air flow meaning less stickiness and condensation inside. Pegging the bags out means they stand up on their own, stay in place and improves airflow for better moisture management. The downside is that they are not instant to pitch and strike, and they weigh a little more too.
---
Aqua Quest 'Hoopla' (and other cheap plastic hooped bivis)
>> Tested by the author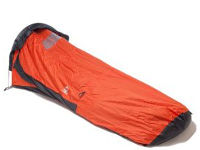 Aqua Quest's hooped bivvy tent is the cheapest on the market.
However, having tested it and seen a friend use it on a trip, it is the one bivvy bag that I would advise avoiding.
It has very poor breathability. It claims to be made from a breathable material but, having seen the pools of water that formed in my friend's after a dry night, I would question that.
I would recommend either spending an extra £30-40 to get the excellent Outdoor Research Helium Bivi (above). Or, saving your money and just getting a bag without a hope.
Summary: not breathable and not worth buying in my opinion. Get the OR Helium or go hoopless.
---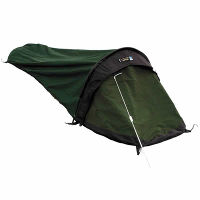 >> Used by the author
The original Jupiter Research Bivi was an excellent bag. I have been using for over 15 years in all sorts of conditions and it was always my default recognition
Unfortunately, whereas the original Research Bivi was made with Goretex, its replacement, the Jupiter Lite, uses Terra Nova's Moonlite fabric which is not very waterproof. As such, I would not recommend it.
The Rab Ridge Raider is the closest to the original Jupiter Research bivi (big, solid, waterproof) and only marginally more expensive. Alternatively, the Outdoor Research Helium is cheaper and more waterproof.
Summary: there are better and cheaper alternatives available.
---
>> Tested by the author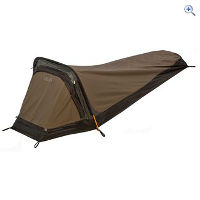 Very similar design to the original Terra Nova Jupiter except using eVent fabric rather than Goretex – perhaps more breathable but much the same – and having a huge hoop.
The big, square sided hoop makes getting in and out of the bag much easier than the Jupiter and allows more air in and out. It does increase the profile though so makes it a little more intrusive and may even suffer in high winds – not something bivviers usually have to worry about.
Summary: great bivi, good simple design, same as the Terra Nova Jupiter but with an extra large hoop and door.
---
Bivvy bags no longer manufactured
The following bags are not available any more. They are included for reference, although you may still find them on Amazon or Ebay.
Hi Gear Adventure Bivvi Bag: 400g, 5,000mm HH, £25.
Vaude Bivibag Active: 200g, 10,000mm HH, 230x80cm.
Vaude Bivi 1P: two poles, 910g, 7,000mm HH, £135. I own one of these.
Terra Nova Saturn: two poles, 1.1kg, 20,000 HH, £350.
---
Background
This review is based on over a decade of bivouacing across the UK and the world, from winter in the Scottish highlands, to summer on the Cornish coast, at 5,000-metres in Kyrgyzstan and roadside on Korean cycle paths, in ditches underneath dual carriageways to the summits of mountains through sunset and sunrise
I've read Ronald Turnbull's Book of the Bivvy cover-to-cover and wrote The Beginner's Guide to Bivouacing so hopefully have some useful knowledge.
More input is welcome though so do add your comments and questions.
---
Change log
UPDATED MAy 2016: Six Eight new bivvies added to the table from Alpkit, Vaude, Terra Nova, Snugpak, Highlander and Outdoor Research. Plus, hydrostatic head (HH) ratings included for all non-Goretex/eVent fabrics.
UPDATED JULY 2016: I've added some new software to make the table sortable by e.g price, weight and whether it's hooped or has a mosquito net. It should also display properly on mobiles. I hope it's helpful but let me know any problems.
UPDATED OCTOBER 2016: tables are now sortable by e.g. size/weight/price and the original source spreadsheets are now available online. Details below.
UPDATED MAY 2018: links updated. 26 bivvies now included.
UPDATED FEBRUARY 2020: links updated. Old bivvies removed, new bivves added. New total of 25.
---
Finally: is it bivi, bivy, bivvy or bivvie?
Bivouac is a real world that's been hijacked, conjugated (e.g. bivouacing, bivouacking, bivouaced, bivouacer), abbreviated (bivvy, bivvie, bivi) and sometimes both (bivvying, bivvier, bivvied). I don't think there's any particular spellings that are "right". I tend to go with bivi and bivvying but include all sorts of spellings to help people find these articles on Google. Similarly, they are sometimes referred to as bivy bags, bivy sacks, bivy tents and, simplies, bivvies.
---
This article is part of my Comparison Series. You might also like: Comparison of Camping Mats, Base Layer Materials, Multi Fuel Stoves and Gas Canister Camping Stoves.
For more comparison articles such as camping mats and base layer materials, see here.