Below is a list of some of my adventures and expeditions. Clients and people I have helped are at the bottom of the page.
Personal Expeditions
Around the World in 80 Ways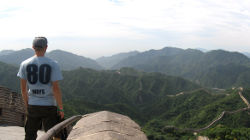 A circumnavigation of the globe using eighty different methods of transport.
Walking Across Patagonia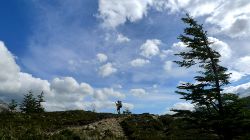 An attempt to hike coast-to-coast across the narrow bit of South America.
Crossing the Wahiba Desert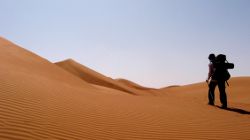 Walking across the small Wahiba Sands desert of Oman by moonlight carrying all our own water.
The £100 Adventure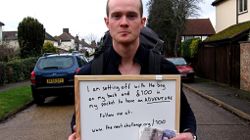 Hitch-hiking around the UK on £100 budget to prove that adventure need not  be expensive.
Mountaineering in Siberia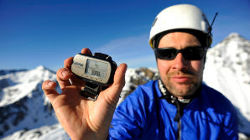 21st Century Altai: First ascents of unclimbed peaks in the Russian Altai.
Swimming the Thames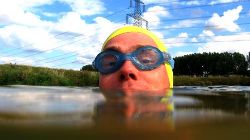 Swimming the length of the River Thames as part of a Greater London Triathlon.
Good Morning Kyrgyzstan!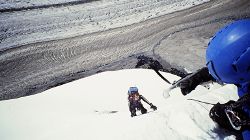 My first expedition. Attempting the first British ascent of Peak Gorky (6,050m) in the Tien Shan mountains.
Climbing in the Bolivian Andes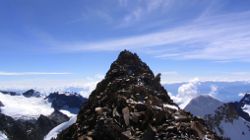 Mountaineering in the Quimsa-Cruz – Bolivia's smallest, lowest and least climbed cordillera.
Cycling Home from Norway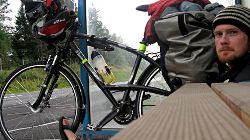 Shunning the plane at the end of a climbing expedition in the Arctic in favour of taking my bike instead.
Running the Tube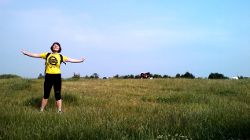 Running ultra-marathons the length of every London Underground train line.
1000 Miles on a Rickshaw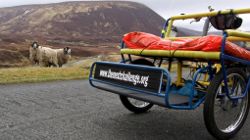 Setting a Guinness World Record for the longest distance cycled on a rickshaw.
A Trip from Tim's to Thom's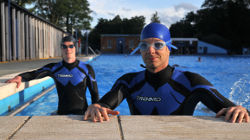 A unique real world 15-hour triathlon from London to the Isle of Wight including a swim across the Solent.
Everyday Adventures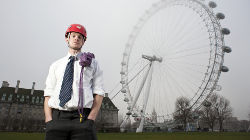 A year of adventure ideas for anyone to squeeze into their daily routines, on a commute or during lunch.
More adventures…
Everest Run: Running up 5000 flights of stairs to at the Royal Geographical Society  |  Svalbard: Ski touring and pulk dragging  |  The Mile: Trying to run a fast mile  |  3 Peaks, 2 Wheels: Cycling between and walking up the UK's highest peaks  |  Running to the Coast: 55 miles from my London flat to the sea side  |  Oman: Five months' adventures in the Gulf. | Walking in Iceland: hiking the Laugavegur |  Cycling England: Plymouth to Edinburgh by bike | Bikepacking the Cairngorms: bothies and mountain bikes in Scotland | Crossing Ibiza: Walking across the iconic island.
Clients
Kaspersky Commonwealth Antarctic Expedition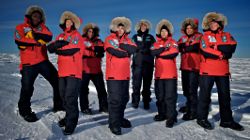 Eight women from different Commonwealth countries brought together to ski across Antarctica to the South Pole.
Sarah Outen Human-Powered Circumnavigation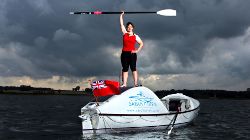 The first woman to row across the Indian Ocean attempts a loop of the planet, London2London: Via the World.
British Schools Exploring Society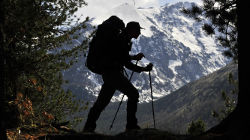 An 80-year old institution, BSES organises remote Arctic, jungle, mountain and desert expeditions for young people.
And more…
Here are a selection of other expeditions, groups and individuals that I have helped in some way:
Charlie Walker Explore, Thumbs Up Africa, Robert Rama Rambini, London-Singapore Overland, The American Rickshaw, Trans-European Cycle, Walking Home from Mongolia, Chimbo-Paxi Expedition,  Friendship Highway Cycle, Bouldering on Mount Roraima, Francis Charlesworth, Rob Cousins' Coast-to-Coast triathlon, James Borrell, Dr Ewan Laurie, Alastair Humphreys, Liam Wilton, Dan Martin, Mikael Strandberg,  Lee Hughes, Brandon James New Life Travel, Kevin Shannon Because It Is There, Leon McCarron Cycling Reporter,  Sean Newall Commonwealth Cycling Project, The 2012 Inspire South Pole Project, Richard Westover, Clare Pennington Big Wilderness Canoe, Steve Blethyn, Dave Cornthwaite, Nikos Georgiados, Death Railway Walk, Akshay Nanavati, Co-Bi Conference Bike LEJOG, Lynne Edwards, Craig Wiffen, Ben Rees, Tom Evans Exceed Possibility, Thumbs Up Africa, Expedition Clayoquot,Harry Thullier Kite Buggy Adventure, Kasim Rafiq South Pole Expedition, Kaspersky One Transantarctic Expedition, Vicky Unlimited Smileage, Rowena Haigh Long Horse Ride, Benji Rodgers-Wilson Earth Odyssey Expedition, Rian Cope, Brian Perich Arctic2Argentina, UCL Expedition & Travel Committee, The One Show Matt Baker Rickshaw Challenge and Keith Ruffles.